The Yellow Balloon (1952) | There's a touch of Hitchcock in this atmospheric British crime thriller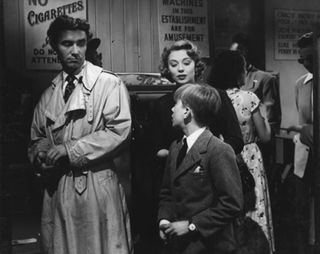 After accidentally causing his friend's death while playing in a bombed out building on a Chelsea London estate, distraught 12-year-old Frankie Palmer (Andrew Ray) is blackmailed by unscrupulous crook Len Turner (William Sylvester) into helping him with a robbery. But when Frankie runs away after the job goes sour, the cold-hearted Len plots to do away with the lad…
The 1953 British noir, The Yellow Balloon, was one of the first X-rated films (you had to be 16 or over to see it at the cinema). 13-year-old Andrew Ray, who had made his screen debut in 1950's The Mudlark, is very convincing as the poor lad torn by telling the truth and living in fear that he might be sent to prison; while William Sylvester's predatory petty thief is a nasty piece of work, especially in the film's genuinely frightening, film-noir drenched climax in which he chases Frankie around the darkened tunnels of a closed Queensway Tube Station. It was these scenes that caused the censor to slap on an 'Adults Only' certificate, which was only later re-classified when cinemas complained they were losing their much-needed family audience. After all the story was a stranger danger warning and a morality tale best seen by youngsters themselves.
A host well-known names provide some great support, including Kenneth More as Ray's rarely at home sailor dad, Sidney James as a street trader who gets a prized pineapple pinched by Ray, and Bernard Lee as a kindly copper – the type that can only exist in fiction like Dixon of Dock Green. Watch out for an uncredited Richard O'Sullivan as one of the kids singing in the Sunday School scene.
The Yellow Balloon is released on DVD in the UK from StudioCanal, and includes as extras an introduction by film historian Charles Barr and a stills gallery
Get the latest updates, reviews and unmissable series to watch and more!
Thank you for signing up to Whattowatch. You will receive a verification email shortly.
There was a problem. Please refresh the page and try again.