Tilly Ramsay: 'Dad's slowly figuring out I'm the boss in the kitchen!'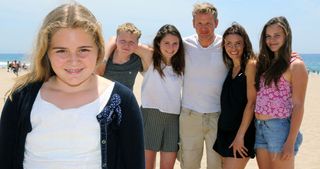 (Image credit: BBC/One Potato Two Potato/Richar)
Tilly Ramsay, (opens in new tab) 13-year-old daughter of world-famous chef Gordon, seems to be following in her father's footsteps with her debut cookery show, Matilda and the Ramsay Bunch (opens in new tab), starting on CBBC on Monday.
She tells TV Times (opens in new tab) why she could teach her father and fellow chef Gordon a thing or two...
Who's the best cook?
"Oh me, definitely. Dad's food has to be posh and perfect, but mine is cosy, home-cooked food that's quick and easy and everyone can enjoy."
The series sees you and your family travel to Los Angeles for the summer and follows the Ramsay's madcap adventures, while you cook your favourite US and British dishes, sharing culinary tips on the way. How did the idea for a cookery show come about?
"When you're the youngest child you have to fight to get noticed – you have to find a passion and let your siblings know about it. Cooking is my passion and when I told Dad I'd love to inspire others to cook he said he'd help out. So here I am."
When did you start cooking?
"I probably made my first cupcakes when I was about six, but I became interested much younger whilst watching Dad film his TV shows at our house. I'd be behind the cameras and found it really exciting. I learnt by watching him cook."
Is it ever a case of 'too many cooks in the kitchen' at your house?
"No, it's good to have more than one. I think Dad's slowly figuring out that I'm the boss in the kitchen!"
You seem to live a pretty glamorous lifestyle, jetting to LA, Tilly…
"We go each summer and I love it because it's sunny – and also because we get to spend the most time together as a family. In the series you see us visit the famous Hollywood sign, the stars' Walk of Fame…actually, my family do that – I'm always in the kitchen!"
So what will you be cooking in the series?
"We have a Ramsay tradition of eating real American burgers when we arrive in LA, so that's what I make in this week's first episode. They're so easy – mince, bit of Worcester sauce and my secret ingredient? As you roll them into a ball, make a small hole and put a block of cheese inside. It's a fun surprise. I also do smoky BBQ fries – sprinkling paprika on top – and Ramsay Whoopee Pies for dessert. Mum gave me a 10 out of 10 for the meal, Dad gave me a seven. I think he might be a bit jealous."
Agreed! What else do you get up to?
"There's a Bollywood episode where I cook Indian food and you see my crazy family Bollywood dancing and dressing up. I throw a pool party and make under-the-sea ice lollies, which have mint inside to look like seaweed. I make hot dogs and pretzels for surf days on the beach, and yummy chicken wings for my sleepover."
So do you want to be a chef like your dad when you grow up?
"Possibly. I love cooking and am always thinking about food and flavours and asking Dad for tips – he's always helpful and suggests how I could improve recipes. But I also love sport – hockey and netball, so I'm not sure yet. It would be quite cool to own a string of restaurants."
Would you give your dad a job in one if he asked?
"If he got past the interview. It depends. He'd probably be quite handy in the kitchen."
Get the latest updates, reviews and unmissable series to watch and more!
Thank you for signing up to Whattowatch. You will receive a verification email shortly.
There was a problem. Please refresh the page and try again.