Tim Roth and Anna Maxwell Martin to star in Jimmy McGovern's new BBC drama, Reg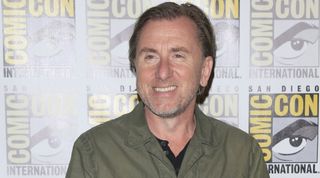 Tim Roth will star in Reg, a new BBC One drama from Bafta award-winning writer Jimmy McGovern.
The Lie To Me actor will play Reg Keys, the father of a soldier killed in Iraq who went on to stand against then Prime Minister Tony Blair in the 2005 General Election.
Reg Keys (Dominic Lipinski/PA)
Anna Maxwell Martin, who has starred in Philomena and Death Comes To Pemberley, will portray Reg's wife Sally.
The 90-minute drama – which was written by McGovern, whose earlier work includes The Accused and Cracker – follows Reg and his wife Sally after their lives were torn apart by the death of their son Lance Corporal Tom Keys in the town of Al Majar Al Kabir near Basra.
Lance Corporal Tom Keys (MoD)
He was one of six Royal Military Policemen who were killed in Iraq, and Reg questioned the Labour Government over Britain's participation in the Iraq War.
Jimmy said: "It was an honour to meet Reg Keys, a truly remarkable man, and it has been a privilege to tell this part of his story.
Reg Keys canvassing (Owen Humphreys/PA)
"When Bob Pugh and I finished the script, they asked me who, in an ideal world, would play the parts of Reg and Sally. Tim Roth and Anna Maxwell Martin, I replied, never dreaming we'd get either. We got both and I am absolutely over the moon."
Polly Hill, from the BBC, added: "To have stellar talent, Tim Roth and Anna Maxwell Martin, playing such important and pivotal roles is testament to Jimmy's honest and gripping writing.
"With the combination of talent and such a heart-wrenching true story, Reg is sure to bring something unique, special and memorable to BBC One."
Get the latest updates, reviews and unmissable series to watch and more!
Thank you for signing up to Whattowatch. You will receive a verification email shortly.
There was a problem. Please refresh the page and try again.