Tom Hollander: 'Doctor Thorne's based on a Victorian novel, but I haven't read it!'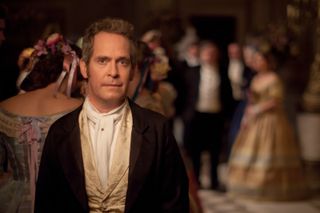 Tom Hollander talks to What's on TV (opens in new tab) about his role as a respected Victorian medic with a thorny family dilemma. The Rev and The Night Manager star reveals he's delighted to be working with Downton Abbey creator Julian Fellowes, seasoned co-star Ian McShane, and fresh faces, Stefanie Martini (opens in new tab) and Harry Richardson in ITV's three-part adaptation of Anthony Trollope's novel, Doctor Thorne…
How would you describe the good Doctor Thorne?
"Well, he's a decent sort. He's a doctor who, in a way, has too many friends and he has to keep them all happy. Chiefly, he has a niece Mary Thorne – played by Stefanie Martini – who lives with him and he loves very much. The circumstances of her birth, however, were very difficult for those times because she was illegitimate. And her father, Doctor Thorne's brother, has died."
What consequences does Mary's birth have on her life in the Victorian village of Barchester?
"By the standard of the day she is unsuitable to marry the man she loves - Frank Gresham, played by Harry Richardson.
"People in this time seem to be held into whatever bit of the class structure they've been born into. They're held quite tightly in it and negotiating their way through it. And Doctor Thorne is managing everybody's fate, somehow!"
We understand Frank's mother, Lady Arabella (Rebecca Front) (opens in new tab) is particularly taken against Mary. How does Doctor Thorne react to that?
"Dr Thorne is usually a quite quiet chap. But he's roused to anger every so often. He's morally courageous. He tends to do the right thing for people. Sometimes to his own detriment! He's the still centre around some colourful characters!"
How do you regard him?
" I think he's a hero in that he's not selfish and it's never his own agenda he's servicing. That's quite unusual to play; most characters are concerned with getting something! His concerns are for everyone else, and chiefly for Mary."
Is that what influenced you to say yes to the role of an 1856 village doctor?
"Yes, I've not played this straight, heroic, leading man-type before. I've played a lead but often in a comic, undercut way, or something quirky like with In the Loop or Rev; so this victorious, virtuous hero is a departure for me."
Had you read the novel Doctor Thorne by Anthony Trollope before taking on the part?
"No I hadn't and I didn't read the whole book while filming. Sometimes if you read the book you find that the person who's adapted it done something completely different in the script to what's in the book, which is confusing. I always think my job is to inhabit the character that's been written in the script. But I did look at the book, just to check I wasn't going wildly off-piste!"
How was it working with Ian McShane, who plays Mary's rich, alcoholic uncle, Sir Roger Scatcherd?
"It was fun and exciting! Scatcherd's a very powerful personality and Ian's brilliant in the role. Ian and I have both been in Pirates of the Caribbean but not in the same one. I think he was a pirate and I was a policeman!"
Did you enjoy working with newcomers Stefanie Martini, who plays Mary, and Harry Richardson, who plays Frank?
"It was fun for me to work with so many young actors who are just starting out. I got to see the sheer fun of locations and costumes, and the romance of the job from their point of view. For Stephanie and Harry it was practically their first job, so they were in a state of wonderment about it all that made me remember what a privilege it is to do these things."
You've also worked with Julian Fellowes previously on Gosford Park. What do you think makes him the right person to adapt Anthony Trollope's original story for ITV's three-part series?
"Julian is particularly good at the interplay of all these social nuances. It's his thing, isn't it? That makes him a good person for this. He relishes the detail of the class obsession with status, and does it brilliantly. He's very good dramatist and great at telling a yarn with a soap opera element to it."
Doctor Thorne is on ITV at 9.00pm on Sunday 6 March
Writer for TV Times, What's On TV, TV & Satellite Week and What To Watch
With twenty years of experience as an entertainment journalist, Elaine writes for What's on TV, TV Times, TV & Satellite Week and (opens in new tab)www.whattowatch.com (opens in new tab) covering a variety of programs from gardening and wildlife to documentaries and drama.
As well as active involvement in the WTW family's social media accounts, she has been known to get chatty on the red carpet and wander into the odd podcast.
After a day of previewing TV, writing about TV and interviewing TV stars, Elaine likes nothing than to relax… by watching TV.
Thank you for signing up to Whattowatch. You will receive a verification email shortly.
There was a problem. Please refresh the page and try again.