Trailer Trash – The King's Speech, The Green Hornet, Black Swan, Tangled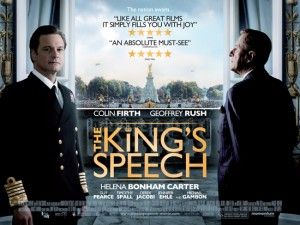 January is not a good month. It's cold. It's grey. The fun of the festive period is already a distant memory and you're faced with one big, crushing reality: eating all those mince pies has resulted in a noticeable jean overhang. Well, just when you thought the season of excess was behind you, Trailer Trash is here with a supersized New Year post, highlighting four films – all out this month – to help you brush off those back-to-work blues.
First, the sure-fire awards botherer, The King's Speech…
https://www.youtube.com/watch?v=kYoSQkfrjfA
Based on a true story, this historical drama charts the battle of King George VI to overcome his debilitating stammer. Starring Colin Firth, Helena Bonham Carter and Geoffrey Rush – with Guy Pearce, Michael Gambon and Timothy Spall in supporting roles – this period piece appears, from the trailer, to pack quite an emotional punch (as well as high production values and an appealing score). Firth, in particular, couldn't be any more likely to secure a major gong for his performance; unless perhaps he'd worn a prosthetic nose (a guarantee of Oscar success). In fact, if he doesn't win something from somewhere, I'll eat my hat (assuming I'm not still on my post-Christmas diet).
The King's Speech is released on Friday 7 January.
Speaking of historical dramas, here's the trailer for The Green Hornet, which is nothing like a historical drama…
https://www.youtube.com/watch?v=PMA-taGtfXs
Directed by Michel Gondry (Eternal Sunshine of the Spotless Mind), The Green Hornet follows brattish playboy Britt Reid (Seth Rogen) as he becomes the titular vigilante crime fighter following the mysterious death of his father. Reid is aided by an impressively resourceful sidekick, Kato (Jay Chou), as he sets about infiltrating and wiping out the local criminal underworld. Gondry's involvement should ensure a sizeable measure of visual flair in this offbeat superhero movie (some of which is evident from the trailer) and Rogen, who co-wrote the script, looks to be as warmly affable here as ever. The real star of the film, however, may well prove to be Reid and Kato's superpowered car, the Black Beauty!
The Green Hornet is released on Friday 14 January.
Speaking of superpowered cars, here's the trailer for Black Swan, which has nothing to do with superpowered cars…
https://www.youtube.com/watch?v=5jaI1XOB-bs
Darren Aronofsky (The Wrestler, Requiem for a Dream) helms this psychological thriller about a dedicated ballerina, Nina (Natalie Portman), whose mind begins to unravel after she is cast as the duplicitous swan queen in a production of Swan Lake. Portman, whose performance in this has already secured her a haul of critic choice awards in the US, is supported by the likes of Vincent Cassel, Barbara Hershey, Winona Ryder and Mila Kunis (who has popped up in films including Forgetting Sarah Marshall and The Book of Eli). If the film is as stylish and gripping as the trailer suggests (note the heart-stopping moment at 01:43 when Portman's reflection turns around and the chilling closing shot of the broken spinning ballerina), this is set to be one of 2011's cinematic highlights.
Black Swan is released on Friday 21 January.
Speaking of dark and twisted psychological thrillers, here's the trailer for Disney animated musical Tangled…
https://www.youtube.com/watch?v=gsYKF8ecC8g
Taking inspiration from a classic Brothers Grimm fairy tale, Tangled – said to be the most expensive animation ever made – tells the story of feisty, long-haired beauty Rapunzel (voiced by Mandy Moore), whose tower-bound existence takes an altogether more adventurous turn when charming rogue Flynn (Zachary Levi) stumbles into her life. Though unlikely to hit quite the same marks as Disney's finest fare, Tangled looks to have plenty of heart, heaps of derring-do, and lots and lots of hair.
Tangled is released on Friday 28 January.
Get the latest updates, reviews and unmissable series to watch and more!
Thank you for signing up to Whattowatch. You will receive a verification email shortly.
There was a problem. Please refresh the page and try again.