Trainwreck | Film review - Amy Schumer lets rip in a rude and raucous romcom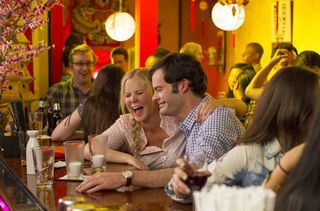 As writer and star of raunchy romcom Trainwreck, American comedian Amy Schumer unleashes the drunken slut persona from her cable TV comedy sketch series Inside Amy Schumer, letting rip with a barrage of rude and raucous gags as her hard-partying New York singleton, a writer on a men's magazine, tears through a series of riotous one-night stands.
Her boozy misadventures deliver some big laughs, but the film takes a surprisingly conventional and conservative turn when she begins dating Bill Hader's successful sports doctor. Director Judd Apatow (Knocked Up, This Is 40) possibly steered Trainwreck into familiar romantic comedy territory, but Schumer's taboo-busting gags still create quite a frisson.
Tilda Swinton, unrecognisable beneath an orange tan and flowing dirty-blonde wig, is hilarious as Schumer's ruthless editor, and so is US basketball icon LeBron James, playing a droll, Downton Abbey-loving version of himself. Look out, too, for offbeat cameos from Daniel Radcliffe and Marisa Tomei in a black-and-white film within the film.
Certificate 15. Runtime 124 mins. Director Judd Apatow
Trainwreck is available on Blu-ray, DVD & Digital HD from Universal Pictures Home Entertainment.
SPECIAL FEATURES INCLUDE -
–UNRATED Version
–Deleted Scenes
–Gag Reel
–Line-O-Rama
EXCLUSIVE BLU-RAY SPECIAL FEATURES -
–Deleted Scenes
–Gag Reel
–Extended Scenes
–Behind-The-Scenes
–Directing Athletes: A Blood Sport – The athletes of Trainwreck talk about their experiences under the direction of Judd Apatow
– Scences from The Dogwalker film with Daniel Radcliffe
– Behind The Scenes Featurette at the Trainwreck Comedy Tour featuring Amy Schumer, Mike Birbiglia, Colin Quinn, Dave Atell, Vanessa Bayer and Judd Apatow
http://www.youtube.com/watch?v=Jm--4hZtgUk
Get the latest updates, reviews and unmissable series to watch and more!
Thank you for signing up to Whattowatch. You will receive a verification email shortly.
There was a problem. Please refresh the page and try again.