Troy star Louis Hunter on playing Paris: 'I didn't feel pressure to buff up'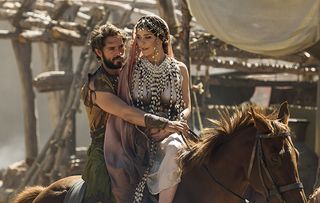 (Image credit: BBC)
Catch up with Louis Hunter who's playing Paris in BBC1's ancient epic Troy: Fall Of A City, which starts tonight at 9.10pm
What's On TV were very lucky to be on the South African set with Louis Hunter, who plays Paris in BBC1's ancient epic Troy: Fall Of A City. In the famous tale it's an illicit love affair between Trojan prince, Paris, and Spartan queen, Helen, that kicks off a war between the Greeks and Troy!
Here, Troy star Louis Hunter tells us more about Paris, fight training, sex scenes and why he had to steer away from the ultimate six-pack...
WOTV: How do you see the love affair between Paris and Helen that sparks off a war between Greece and the city of Troy?Louis Hunter: "It can be compared to Romeo and Juliet in a way, the difference being is this takes longer and they are slightly older. Essentially they are young and obsessed with each other but they don't really have time to think about the consequences. This war goes on for ten years and so they're constantly reminded day after day as to whether their affair was the right thing to do. Should they really be together? Does their love mean so much that the city of Troy is willing to put up with death and the famine and the war? It's not just a spur of the moment lustful moment where they see each other and think 'oh this would be fun'. No this is for real and in their minds, for ever!
WOTV: As Paris you get a lot of action scenes and fighting, so did you do a lot of training for the role? Louis Hunter: "Yeah a lot. I came out three or four weeks before filming to train for sword fighting, wrestling javelin throwing, archery, horse riding… I loved working with two horses, called Shakira and Suzy, but for one scene where Paris was stood up on a horse, a special mechanical horse was used."
WOTV: There are many battles to film, how was that? Louis Hunter: "We definitely have enough bloodshed to even make Quentin Tarantino blush but a lot of the battles are duels and battles that are smaller in scale but because you're right in there with the individuals. So the fights scenes feel a lot more intense instead of a huge thing with faceless CGI masses."
WOTV: We've seen Paris in plenty of nude and sex scenes. Tell us more about those? Louis Hunter: "Yeah there's a lot of nude scenes but how do you tell the love story between Helen and Paris without intimacy, sex and lust? It was actually my first scene Bella Dayne (Helen) and it was crazy. We'd only met on a couple of cast dinners by then, but in terms of the first day on set, we were thrown into the deep end!"
WOTV: Did you have to buff up to play Paris? Louis Hunter: "I didn't feel pressure to buff up. The producers actually wanted me to steer away from the ultimate six-pack and actually that's a smart choice and a brave choice because while sex appeal sells, we're trying to sell the most authentic real story that we can and there's nothing authentic about that look. Troy is under siege, you're not eating so you're not going to go to the gym and pump out 100 sit-ups while you're starving to death."
WOTV: What was it like filming near Cape Town, South Africa? Louis Hunter: "We were kept on a tight schedule so it was pretty difficult to get out. Fortunately though there have been some locations we went to were breathtaking so in a way we've got to see some of the best bits of Cape Town. It was pure pleasure."
WOTV: Did you read these stories growing up? Louis Hunter: "I read a bit of the Odyssey growing up but when this job came up I deliberately wanted to stay away from the original text just because it's so epic already and its scale is so large and sometimes to go back to the original text makes it less personal. Was it Hitchcock who said that film or TV is life with all the boring bits cut out? And that's exactly what we're doing, we're telling this story in a fresh, original way."
Troy: Fall of a City begins on Saturday 17 February, BBC1, 9.10pm.
Get the latest updates, reviews and unmissable series to watch and more!
Thank you for signing up to Whattowatch. You will receive a verification email shortly.
There was a problem. Please refresh the page and try again.