TV Times 12 Fools & Horses Xmas Crackers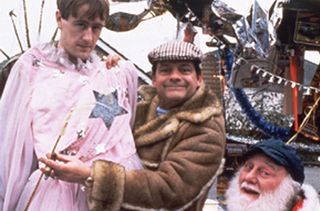 Karaoke Mozart, 'Schindler's List On Ice', the threat of a fist fight with a roast chicken in a pub car park... the 19 Only Fools and Horses Christmas specials, made between 1981 and 2003, had it all!
Here TV Times proudly presents 12 Christmas crackers from Del's lock up…
1
"One day, they might make a musical about the history of the Trotter family. Then as a sequel, they could do Schindler's List on Ice."
Rodney Modern Men (1996)
2
"Tough? Tough? It's the toughest chicken I've ever known. It's asked me for a fight in the car park twice!"
Del to The Nag's Head landlord Mick, 'Diamonds Are For Heather' (1982)
3
"I don't know why they have these drug addiction centres. Aren't there enough drug addicts about as it is, without them recruiting them?"
Grandad Christmas Cracker (1981)
4
"We are not dealing with a normal person; this is Derek Trotter! Don't you understand? He is sucking the land dry! I'm expecting a visit from Lenny Henry and Bob Geldolf any minute!"
Rodney 'Mother Nature's Son' (1992)
5
"How dare you! Murdered my wife and buried her in the garden? I have never been so insulted in my life. You know how much I've spent on that garden! You think I'm going to dig a hole in it?"
Boycie Sleepless in Peckham (2003)
6
Trigger: Ain't there any words to this, Dave?
Rodney: Words? No... no words. Sorta instrumental.
Del: What's this?!
Trigger: It's Mozart's Concerto in D Major. It's the karaoke version
If They Could See Us Now (2001)
7
"It's like I've told you, Cassandra. Women are from Venus, men are from Peckham!'
Raquel Sleepless in Peckham (2003)
8
"I have become dismayed, even shocked by the attitude of youth – but today you walked into this church and offered us this tree
simply because you care. You have rekindled my faith in the human race…. It's not nicked is it?'
Del Boy tries to sell a Christmas trees to the local vicar, Christmas Trees (1982)
9
Denzil: That's Derek Trotter in there, not bloody Einstein!
Trigger: Del, knows what he's talking about? And I don't see what The Beatles' manager has got to do with it anyway.
Mother Nature's Son (1992)
10
"It's a right blinding Christmas this has turned out to be, innit. I mean some people get wise men bearing gifts, we get a wally with a disease."
Del, not happy to see his and Rodney's estranged father, Ticker Than Water (1983)
11
Del: It's closed!
Trigger: Well, it's a bit late, innit?
Del: What d'you mean "a bit late"? You said it was open 24 hours a day
Trigger: Yeah, but not at night!
Mother Nature's Son (1992)
12
"There's gotta be a way! He who dares wins! There's a million quid's worth of gold out there – our gold. We can't just say 'Bonjour!' to it."
Del The Frog's Legacy (1987)
ROBYN O'KEEFFE
Thank you for signing up to Whattowatch. You will receive a verification email shortly.
There was a problem. Please refresh the page and try again.