TV Times tribute: The genius of Victoria Wood in 17 of her funniest lines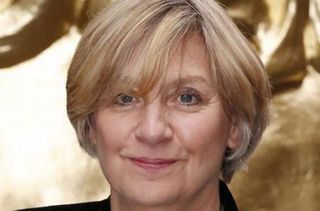 Writer, actor and comedian, Victoria Wood – who has passed away aged just 62 – was one of British comedy's most original and popular performers.
Here TV Times celebrates Victoria's genius with 17 of her best lines…
1
'I once went to one of those parties where everyone throws their car keys into the middle of the room.… I don't know who got my moped, but I drove that Peugeot for years.'
2
'Is it on the trolley? Can you point at it?'
http://www.youtube.com/watch?v=8oR4bD6PaTE
3
'She said "Victoria, I see you in a beige Kaftan" I said, "Well, I see you in an oxygen tent" and put the phone down.'
4
'The changing rooms have altered since I was here. It's all communal – like a nude tribunal!'
5
'Well, he's not my husband but he rubbed up against me in a sports jacket so he's as good as.'
6
'Never touch prawns. Do you know they hang around sewage outlet pipes treading water with their mouths open? They love it!' http://www.youtube.com/watch?v=q90wUWVpops
7
'I didn't have sex at all, not a scrap 'til I was 67, and that was because I'd no small change for the window cleaner'
8
'Jogging is for people who aren't intelligent enough to watch breakfast TV'
9
'Well this is ACORN Antiques, so what do you think I've been making the coffee out of…? Antiques!'
10
'That's not an appendix scar, she's nodded off on her Dick Francis.'
11
'Oh, and she's saving up for her bottom drawer. What's she got? Just the knobs.'
12
'Two soups!'
http://www.youtube.com/watch?v=Z6aYLOf8CUQ
13
'He would say I threw scrambled egg at him. Did he tell you that we never have scrambled egg? No, I bet he didn't. It was a boiled egg.'
14
'I know I've got a degree. Why does that mean I have to spend my life with intellectuals? I've got a lifesaving certificate but I don't spend my evenings diving for a rubber brick with my pyjamas on.'
15
'In the Eighties I was living the life of Riley – Mavis Riley, and it was crap.'
16
'I thought Coq au Vin was love in a lorry'
17
'Beat me on the bottom with a Woman's Weekly…'
' http://www.youtube.com/watch?v=lNU5KVa_Tu8
Get the What to Watch Newsletter
The latest updates, reviews and unmissable series to watch and more!