TV's 11 Most Annoying Pensioners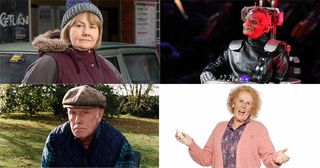 As Simon Callow brings his super sour septuagenarian Henry Palmer to Gold in The Rebel later this month, we salute TV's top peeved and pesky pensioners…
Old age pensioners are lovely people with fascinating stories to tell and precious wisdom to impart – a welcome addition to any home or whist drive.
However, on television those in the autumn of their years are all too often transformed, for our entertainment and amusement, into nagging mongers of doooom.
Ahead of new GOLD series The Rebel, starring Simon Callow as Henry Palmer, whingebag extraordinaire, we proudly present 11 of TV's very worst representatives of the older generation...
1 Alf Garnett
"It stands to reason!"
No one did righteous anger like Warren Mitchell's bigoted West Ham United fanatic in Till Death Do Us Part though, famously, he never got the better of long-suffering wife Else.
2 Victor Meldew
" I don't believe it!"
In classic sitcom One Foot In The Grave, modern life appeared to hate luckless Victor (Richard Wilson) and the feeling was definitely mutual.
3 Hyacinth Bucket
"The Bouquet residence, the lady of the house speaking."
For Keeping Up Appearances mega-snob Hyacinth nothing and no-one could ever live up to the promise of her exclusive "candlelight suppers" and she has no qualms about letting the world know in her unforgettable operatic wail.
4 Private Frazer
"We're dooooomed…"
Quite possibly Britain's favourite pessimist, no episode of Dad's Army is complete without Private Frazer (the peerless John Laurie in the original TV series) pouring Scottish scorn on puffed-up Captain Mainwaring's latest plan of inaction.
5 Nan
"What a ****ing liberty!"
Foul-mouthed and free thinking, Catherine Tate's Nan makes other people's lives a misery while always making sure she gets a good cackle out of it along the way.
6 Father Jack
"Drink!" Girls!"
Father Ted 's Jack is a man who knows exactly what he wants – "Drink!" Girls!" in the main– but has no idea how to get them, which might explain why he finds it physically impossible to smile.
7 Davros
"I will teach you the folly of your words, Doctor!"
With his in-built mobility scooter and 500 fags-a-day croak, Doctor Who's king of the Daleks is grouchy on an intergalactic scale, making Alf Garnett look like Tom Daley on a caribbean cruise.
8 Aunt Babe
"This is down to your perversions!"
Currently blackmailing secret cross-dresser Les Coker, Babe (to her family and friends – if she had any) is almost definitely EastEnders' most hated character, quite an achievement in itself.
9 Norris Cole
"You can scoff but wait until the future…"
Busy-body Norris is Corrie's self-styled judge and jury who recognises no authority other than boss Rita who, thankfully, can still reduce him to a quivering, speechless wreck.
10 Miss Marple
"I'm afraid I must put a cat amongst the Inspector's pigeons"
Yes she cracks crimes but Miss Jane Marple is never slow to question the ability of trained police officers and plays polite society for all its worth – and don't you dare not offer her a cup of tea…
11 Mr Burns
"I am an angry old rich man!'
The Simpsons' nuclear power plant boss Montgomery Burns is unapologetic in his pursuit of profit at the expense the people of Springfield, but then lackadaisical employee Homer Simpson always seems so much happier with his lot – and in that perhaps there is a lesson for all our moany oldies.
Get the What to Watch Newsletter
The latest updates, reviews and unmissable series to watch and more!