Valentino (1977) | Blu-ray release - Ken Russell's wildly colourful biopic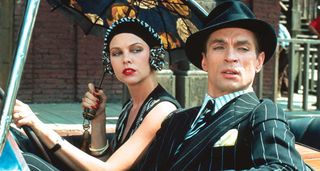 Controversial British director Ken Russell tells the story of one of the silver screen's greatest legends, Rudolph Valentino, in this wildly colourful biopic starring the world's most celebrated dancer, Rudolf Nureyev, in the title role.
Tracing Valentino's humble beginnings as an Italian immigrant in New York, where he worked as a gigolo and dancer in a fashionable ballroom, to Hollywood, where he seduces famous lovers and becomes an international star, Russell's film flashes over Rudy's life through the five women mourning his untimely death at the age of 31 in 1926.
There's his first love Bianca (Emily Bolton), the bisexual avant-garde actress Alla Nazimova (Leslie Caron), his 'starlet' first wife Jean Acker (Gotham's Carol Kane), and his spiritualist set designer second wife Natacha Rambova (Michelle Phillips), and finally the screenwriter who discovered him, June Mathis (Felicity Kendal, in one of her finest roles).
Featuring colourful cinematography, evocative art direction, stunning costumes, and a stellar cast, its another energetic and outrageous entry in the director's Twenties Quartet of films about the breaking of dreams, presenting a vivid and visceral picture of the free-for-all life of New York and Hollywood during those golden years between the two World Wars.
Made in 1977, where it was a box-office hit in Britain for two weeks (before Star Wars changed everything) and previously unavailable on Blu-ray, Valentino is now released in a Dual Format Edition (Blu-ray and DVD discs) by the BFI on 29 February 2016. The film is presented with numerous special features, including audio commentary, a new interview with cast member Dudley Sutton, plus archive interviews with director Ken Russell and star Rudolph Nureyev.
Valentino is also the first of three DVD/Blu-ray releases of Ken Russell films by the BFI this year. On 28 March, Ken Russell: The Great Composers (containing Elgar, The Debussy Film and Song of Summer) and Ken Russell: The Great Passions (containing Always on Sunday, Isadora and Dante's Inferno) are also released in dual format Editions.
Thank you for signing up to Whattowatch. You will receive a verification email shortly.
There was a problem. Please refresh the page and try again.