VIDEO: see Anna Friel in ITV's new cop drama, Marcella. She's got a secret 'no one must know!'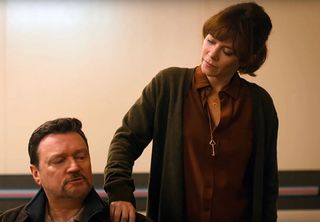 Marcella (Anna Friel) hasn't worked as a detective for 10 years… She returns to the job and is suddenly working overtime.
Marcella has a serial killer to catch in London – and she's investigating her estranged husband, Jason (Nicholas Pinnock). Both are going to be dangerous.
Marcella goes back to work to stop herself falling apart when her husband leaves her and she is quickly on the case of a serial killer – one that works just like the killer she failed to catch 10 years earlier.
"I don't see Marcella as a cop because she's actually been out of the force longer than she was in it," says Anna. "She's very unconventional. You're on her side because you think, 'How can you put this woman through this?'. You understand her and want to forgive anything she may have done."
Co-starring Downton Abbey's Laura Carmichael, Coronation Street's Ian Puleston-Davies, Nina Sosanya (Last Tango In Halifax), Game of Thrones' Harry Lloyd, Patrick Baladi (Mistresses) and Sinead Cusack (Jekyll & Hyde), Marcella is written by Hans Rosenfeldt, who created BBC4's award-winning crime drama The Bridge.
Former Corrie star Ian Puleston-Davies plays a prime suspect in new crime drama Marcella
"None of us knew how the series would end until we got Hans' final scripts," adds Anna. "Each and every one of us could end up as a victim, witness or suspect."
But, as the video below reveals, Marcella has something "no one must know".
But it's only Marcella in the opening scene, alone in the bath.
"I'm 39 years old, the nakedness doesn't really get to me," says Anna. "I was in the bath for about four hours [while scenes were shot]."
Here's a preview of the drama to come.
http://www.youtube.com/watch?v=_qN4ePvIqOQ
Marcella, an eight-part series, starts on ITV, Monday, April 4, 9.00pm.
Get the latest updates, reviews and unmissable series to watch and more!
Thank you for signing up to Whattowatch. You will receive a verification email shortly.
There was a problem. Please refresh the page and try again.