War and Peace's Tuppence Middleton: 'It's so much more fun to play the villain!' (VIDEO)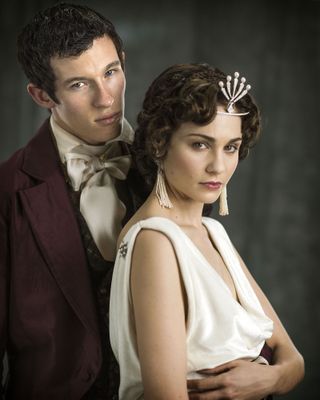 (Image credit: BBC/Mitch Jenkins)
Helena Kuragin is undoubtedly one of the main villains in Leo Tolstoy's War and Peace. But actress Tuppence Middleton, who plays her in BBC1's six-part TV adaptation of the Russian masterpiece, revealed to What's on TV she believes Helena was also a pioneer who played men of the time at their own game!
Speaking at the red carpet launch for the series, Tuppence explained: "Helena's part of this very wealthy family. Her brother (Anatol, played by Callum Turner) and her father (Prince Vasili, played by Stephen Rea) are, along with her, master manipulators and know how to get what they want.
"She manages to seduce her way into marrying the wealthiest man in Russia (Pierre Bezukhov, portrayed by Paul Dano) and then treating him very badly, and having lots of affairs – or lots of fun, as she sees it."
Tuppence added: "When you read the novel you see her as one of the villainous characters, and quite a dark person - and she is. But I like the idea that she was actually this liberated woman who, like a lot of men at the time, married but also had affairs. But, because they were men, that was absolutely fine, and then when women did it, it was absolutely scandalous.
"I quite liked that she was ahead of her time and thought 'why shouldn't I do it as well?' and enjoyed it in the process!"
Tuppence's character made headlines before the series was even released, as the new adaptation strongly indicates Helena and brother Anatol (pictured) were having an incestuous affair. Something Tolstoy only vaguely hinted at. The actress, also currently starring in BBC's Dickensian with Stephen Rea, revealed she relished portraying such a dark character.
"It's so much more fun to play the villain. Most people aren't that evil in real life, so it's nice to play something a little bit naughty. I loved it."
Speaking about the impressive cast, Tuppence went on to say: "Working with Paul Dano was just brilliant. When you're working with actors of that calibre it ups your game immediately. Pretty much the entire ensemble cast were incredible.
She also revealed she enjoyed working alongside Irish actor, Stephen, twice last year: "I love Stephen Rea, he's such a legend, and he's taught me so much. And he's so lovely and protective.
"Just by watching someone like that, the way they conduct themselves on set and watching them act and the choices they make, you learn so much just by being there.
"He was coincidentally on a job I did straight after that… Dickensian. We'd never worked together before and then suddenly it was twice in a row. It was really exciting to see him."
For the full interview with Tuppence, watch the video above. "]
Watch more video interviews from the War and Peace red carpet below: James Norton Lily James Aneurin Barnard
Get the latest updates, reviews and unmissable series to watch and more!
Thank you for signing up to Whattowatch. You will receive a verification email shortly.
There was a problem. Please refresh the page and try again.