Sophie Rundle and Tuppence Middleton: Dickens would have loved Dickensian! (VIDEO)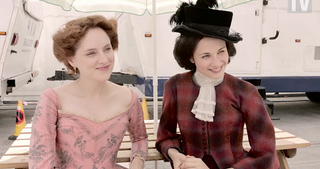 Two of the stars of BBC One's new 20-part drama Dickensian believe Charles Dickens would have loved the series which reimagines many of his characters – and invents some new ones – in a completely new fictionalised story, where characters from different novels interact with each other.
Tuppence Middleton plays Great Expectations' Miss Havisham before she was jilted at the altar and Sophie Rundle stars as Bleak House's Honoria Barbary.
In the new drama created by Tony Jordan the duo are friends.
Tuppence told What's on TV on set in west London: "What's really nice is it stays really loyal to the book, the writing, what we know about the characters, some parts of their back stories and some new characters entirely have been invented, which is a really fun thing to play with, so we were lucky in that our characters, we had some information on them previously, from whether it's before or after the world they're in now."
Sophie added: "It made sense to [create the drama] when you think about it – Dickens' novels are so full of back story and different characters and are very well written and well rounded, so it made sense to put it into a new world where you could explore them further. I mean, so much more interesting stuff in the book happens before the books started."
They both agreed Dickens would have loved Dickensian because 'it's very in the spirit of Dickens'.
Sophie explained: "Because it's funny, but it's also tragic. It's rich. I think he would have liked it. He chose to distribute his stories in these little bursts. I think he'd love this idea [where] you're just wrapped up and you want to know what happens next and it's sort of fed to you in that way."
Tuppence hoped viewers would appreciate a different vision of Dickens. "I think a lot of people can think of Dickens being this very classic writer who writes these kind of bleak, dark stories set in London, when I think he's actually very funny."
Dickensian premieres on BBC One on Boxing Day.
Watch the interview with Sophie Rundle and Tuppence Middleton, above."]
Get the latest updates, reviews and unmissable series to watch and more!
Thank you for signing up to Whattowatch. You will receive a verification email shortly.
There was a problem. Please refresh the page and try again.