War & Peace and Dickensian star Tuppence Middleton: 'I want to be acting into my 90s!'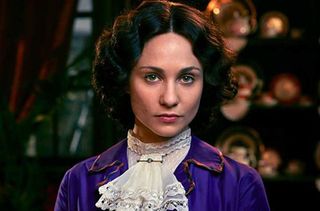 Star of the moment, Tuppence Middleton, 28, talks to TV Times about playing 'master manipulator' Helene in War & Peace (BBC1, Sunday) and dreamer Amelia in Dickensian (BBC1, Weds & Thurs).
Andrew Davies, writer of the BBC1 adaptation of War & Peace, has described your character Helene Kuragina as the 'naughtiest woman on TV'. How do you see her?
"She knows how to get what she wants – socially, financially, romantically. Helene is a master manipulator. I wanted Helene to be fun as well as this villainous seductress. I want her to be liberated and likeable, even though we know she is no good."
And in Dickenisan you're Amelia Havisham, a very different but equally complex young woman, decades before she becomes the aged and bitter Miss Havisham we know from Great Expectations…
"A lot of people would think of her as this crazy old woman who sat in her cobwebbed house in her wedding dress for 25 years. But I play her before that point. In Dickensian, she's a young woman who is left money and a business by her father. It's very interesting to see her as a young woman with hopes and dreams. But she is forced to grow up very quickly when she is suddenly given this great responsibility."
Television keeps returning to Dickens, why do you think his work remains relevant and universal?
"The reason why any classic novelist lasts is because they write in a very human, recognisable way. So it doesn't feel like they're talking about an era from the past. People's emotions are timeless. It doesn't matter what period or society you're from – people will always feel the same things.
"Dickens was very good at writing really intricate characters. He never shied away from dramatic storylines which at the time were quite shocking and modern. But we can still relate to these stories emotionally. It's such rich source material for us. Each story has a different energy and you never get tired of revisiting them."
So what do you think Dickens himself would have made of Dickensian?
"I think he would have appreciated it... It's told over 20 episodes. It's very apt that we discover the characters in this episodic format, as that's what Dickens' original readers did. I'm sure it's a project the author would have been very supportive of. Dickens would completely have approved of Dickensian!"
You've been very successful relatively early in your career, but you've said you're in it for the long haul…
"I hope to still be doing this into my eighties or nineties. I would just love to keep working. You never get rid of that feeling that this could be your last job and you will never work again!"
Get the latest updates, reviews and unmissable series to watch and more!
Thank you for signing up to Whattowatch. You will receive a verification email shortly.
There was a problem. Please refresh the page and try again.