Watch an exclusive Raised by Wolves episode 4 preview!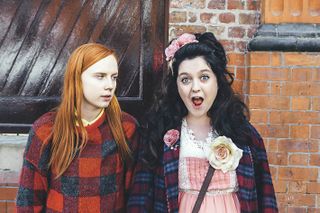 (Image credit: RORY LINDSAY)
If you can't wait till Easter Monday for episode four of Caitlin and Caroline Moran's clever C4 sitcom, Raised By Wolves, check out our exclusive clip.
Della (Rebekah Staton) wants her kids to improve their social sills so she gets them in their glad rags and sends them off to their Uncle Natie's birthday party.
But instead of 'music, beer in red cups and cutting-edge chat', they're trapped in a room with a games a console and some fellow geeks (they should fit right in, then!)
"We're society's outsiders, aren't we?" Germaine (Helen Monks) announces to her new friends. "Ostracised by the norms, but loving Google docs and coding too hard… so let's bond. Ask me anything."
"Are you someone's drunk mum?" asks one young partygoer.
Watch the Raised BY Wolves clip:
http://www.youtube.com/watch?v=mW7XI9a4Ews
Get the latest updates, reviews and unmissable series to watch and more!
Thank you for signing up to Whattowatch. You will receive a verification email shortly.
There was a problem. Please refresh the page and try again.