BBC's Watership Down adaptation slammed by viewers after they notice THIS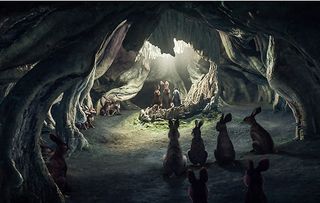 (Image credit: Watership Down)
Did you spot it?
Watership Down had many viewers scratching their heads on Saturday night after they were left confused by the BBC's interpretation of rabbits.
Slamming the remake of the 1978 classic, many fans were left divided as they claimed the rabbits looked more like hares.
And some viewers were so frustrated with the 'disappointing' animation they even threatened to 'switch off' their TVs.
One disgruntled viewer wrote: 'One thing bugging me more than the god-awful animation is the fact the makers don't appear to know the difference between rabbits and hares.'
Another said: 'Do the people who did the CGI for Watership Down actually know what rabbits look like. They were hares! I'll stick with the book.
A third added: 'Did I mention they were hares? They were clearly hares.'
While a fourth said: '#WatershipDown turned it off, why are these things always overhyped? Animation is terrible, still love the original in a sad but good way.'
And a fifth said: 'This new version is so incredibly disappointing. Why would you sign off on something that looks this bad. The animation aesthetic is possibly the worst I've ever seen!'
However, there were some people who enjoyed the first episode of the remake.
One happy viewer tweeted: 'Thought Watership Down was brilliantly cast by @RPEcasting & @lilliejeffrey. Some beautiful direction & really enjoyed to seeing a closer-to-the-novel, more fleshed out version. Looking forward to the next chapter.'
Another added: 'Loving the new adaptation of Watership Down, including the detail and the dialogue. Oh, and I did read the book, several times.'
The BBC's adaptation of Watership Down boasts an impressive voice cast, including a number of Hollywood A-Listers such as James McAvoy, John Boyega and Rosamund Pike.
You can watch the second part tonight at 7.20pm on BBC One.
Get the latest updates, reviews and unmissable series to watch and more!
Thank you for signing up to Whattowatch. You will receive a verification email shortly.
There was a problem. Please refresh the page and try again.