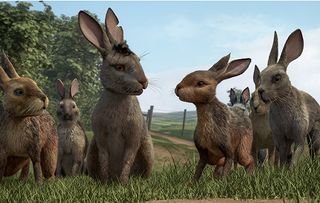 (Image credit: Watership Down)
A new adaptation of the classic Watership Down arrives on our screens with a stellar voice cast including Gemma Arterton, James McAvoy and Nicholas Hoult
A new adaptation of the children's classic Watership Down arrives on our screens
Watership Down is back – and this time around it promises to make altogether less traumatic viewing.
This beautiful two-part animation follows a band of rabbits, led by brothers Hazel (voiced by James McAvoy) and Fiver (Nicholas Hoult), who are forced to flee their home before it's destroyed by humans.
On their journey to a promised land they face predators, terrifying rival rabbits and – the ultimate danger – humans.
The cast reads like a who's who of British actors and also includes James Bond star Gemma Arterton and Broadchurch's Olivia Colman as rabbits Clover and Strawberry, and Doctor Who's Peter Capaldi as seagull Kehaar.
Exciting yet heart-warming viewing.
Concludes tomorrow.
TV Times rating: *****
Don't expect to hear a tear-inducing rendition of Bright Eyes this time, though, as Sam Smith is singing a new theme, Fire on Fire.
TV Times was invited to the series launch, where Nicholas, 29, Gemma, 32, and James, 39, tell us more…
Were you excited to get a role in this?
James: Yes, when I got the email asking how I felt about doing it I was actually wearing my Watership Down T-shirt. I took a selfie and sent it to the producer saying, 'This is fate'! Nicholas: I'm pretty sure you were wearing that T-shirt when we were in Montreal shooting [X-Men]. I asked you about it and you said, 'I'm doing the voice for it. You should do it'. It's all down to the T-shirt!
Had you read the book as kids?
Gemma: I hadn't read the book, I'd only seen the film when I was a kid and remember being absolutely traumatised. I remember it being on at Easter and not being joyful at all. It was just blood and moaning. It was great reading the book as an adult and seeing there's so much more to it than just violence. James: My first memory of Watership Down was when my friend from school came round and we ate our dinner in front of the film. I was thinking, 'This is amazing, we've got fish and chips or whatever it was, and we're watching Watership Down'. But then I looked at him and he was crying and he said, 'I want to go home'. I loved it, though. Then, later, I read the book when I was at drama school and I loved it. Nicholas: I saw the original film as a child and had flashing images of that rabbit in a snare in my brain. I used to watch things with my older brother, so I think I was way too young to be watching it really. It was nice to go back and revisit it and get a better understanding.
Is it strange to voice a part without having to act?
Gemma: I think quite early on I asked, 'Do we do a rabbit voice?'. But the director, Noam Murro, said, 'No, just be yourself'. That's what makes this version seem very contemporary. You've got different accents and people's real voices. Nicholas: I had to try and make my voice sound younger for this. They asked me to pitch my voice up a bit, so I did, and then I heard a little bit back and emailed the producer saying, 'Please fire me. I feel like you maybe need someone else'. Luckily they said, 'No, we really like it'.
Is voicing a character in a studio tougher in some ways than filming a scene for a movie?
Gemma: You have to record the bits where they say, 'You're running away from a cat now,' and 'You're sniffing the air,' and you have to be a child really. It's quite liberating. James: Did you ever find yourself getting completely light-headed? I think I almost passed out a couple of times on set. Nicholas: I had to nibble on a lot of pencils. There were a lot of them round the studio!
Get the What to Watch Newsletter
The latest updates, reviews and unmissable series to watch and more!
TV Times Highlights Editor
As TV Times Highlights Editor I get to hear about all the latest TV shows coming soon. Here at TVT HQ we are in the privileged position of selecting the best programmes from across all the channels and streaming platforms. Our mission is to make it easier for our readers to decide what to watch - and give them lots of choice of genres - all the latest shows, plus some nostalgic choices we call hidden gems, too. My career began with a postgraduate degree in periodical journalism (ahem, yes old school!) in 1991 and I've worked in TV media since 2000.