What's in The Box? James Martin to host new BBC cookery challenge show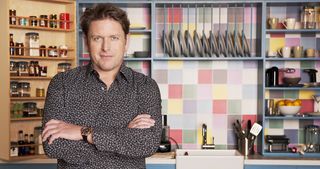 James Martin will host a new BBC1 daytime cookery challenge show, The Box, on which members of the public cook dishes from an unseen box of ingredients chosen by a celebrity guest.
The Saturday Kitchen host said: "The Box is a great opportunity for the country's home cooks to show off their talents. I'm really excited to see what dishes they can create without the aid of a recipe. It's the ultimate test of a cooks skill and creativity - and I think it's a great chance to see the incredible variety of dishes being cooked everyday in homes around the country."
Each day three home cooks will compete to create a dish from a box of ingredients chosen by a celebrity guest, who on this series include Call The Midwife's Helen George, Mary Berry, Ainsley Harriot, Lisa Faulkner, Prue Leith, Margaret Mountford, Fay Ripley, Craig Revel Horwood, Alex Jones, Esther Rantzen and Jessie Wallace..
Without knowing who they're cooking for, the contestants have to think on their feet, and rely on their basic cooking skills and inventive ideas to prepare a meal using items that the celebrity loves to eat and cook with.
The cooks wil be unaware they'll be watched by the celebrity as they monitor what's happening with the ingredients they've supplied. The guest then turns into judge and decides which dish is the best... The aim is to come first in this initial task, because the winner then gets to dictate who cooks what in the second test.
In the second challenge of the day, James selects ingredients to go into three new boxes, from a range across the series that will include: The Chocolate Box, The Basic Box, The Pasta Box, The Egg Box, The Meat Box, The Left Overs Box, The Seafood Box, The Global Box, The Bird Box.
The winner of the first test is given the all-important, strategic chance to choose which of the three Boxes they want to cook with - as well as deciding which Box the other two contestants will cook from!
Based on the dishes from this second test, James Martin decides who triumphs and wins The Cook of the Day.
The Box will run for 25 episodes, spread over five weeks on BBC1 daytime, from June.
Get the latest updates, reviews and unmissable series to watch and more!
Thank you for signing up to Whattowatch. You will receive a verification email shortly.
There was a problem. Please refresh the page and try again.