While The City Sleeps (1956) | Fritz Lang's underrated film noir classic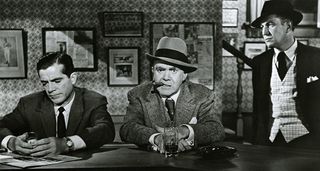 Did you know that on 16 May in 1956 While the City Sleeps had its US premiere, before going on general release on 30 May?
Having established his noir credentials with the 1940's films Ministry of Fear, Scarlet Street and The Woman in the Window, director Fritz Lang (the visionary behind the 1930s classics M and Metropolis) stepped back into the shadows for 1956's pulp fiction While the City Sleeps. While not as critically praised as his earlier films, this gritty neo noir is now regarded as one of Lang's most underrated movies, featuring a stand out cast, and some typically moody cinematography from noir legend Ernest Laszlo.
The debonair prince of the sinister, Vincent Price, plays Walter Kyne, a waste of a man who starts a power struggle after inheriting his late father's media empire. When young women in New York fall prey to a serial sex murderer dubbed The Lipstick Killer (John Barrymore Jr – yes, that's Drew's dad), Price's slimy Kyne pits his newspaper editor (Thomas Mitchell), the head of the wire service (George Sanders aka Batman's Mr Freeze) and a news photographer (James Craig) against each other. Whoever scoops the Lipstick Killer story first wins a coveted top job.
If this were remade today, it would be like The Apprentice headed up by one of Rupert Murdoch's brood - but this is the 1950s, so we have Laura's Dana Andrews playing to type as a no-nonsense writer who uses the power of television to draw the killer out into the open, ending in a hair-raising chase through Manhattan's subway tunnels. More mystery than noir, While the City Sleeps is an entertaining drama featuring some sterling performances from the era's best-known actors, including Price as the fop who is out-of-his-depth in the cutthroat world of journalism; the wonderful Ida Lupino as a columnist; and Rhonda Fleming as Price's adulterous wife.
In 2010, a digitally restored and re-mastered DVD was put out in the UK by Exposure Cinema and is a real treat for fans of noir, mystery and good, old-fashioned suspense.
Get the What to Watch Newsletter
The latest updates, reviews and unmissable series to watch and more!