The winners of the 2016 TV Times Awards winners are...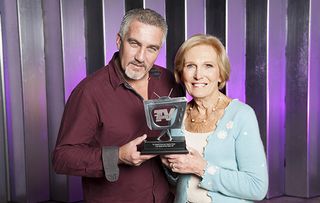 It's been a terrific year on TV, so it's no surprise that thousands of you voted for your favourite programmes and stars in the annual TV Times Awardsawards. But who won what?
The winners of the 2016 TV Times Awards are...
THE GREAT BRITISH BAKE OFF EDITOR'S PROGRAMME OF THE YEAR It's been an extraordinary year for The Great British Bake Off but it's proved to be unmissable TV. Which is why this seventh series, which saw Candice Brown crowned champion, has won TV Times' Editor's Programme of the Year gong.
'A big thank you to TV Times readers for all their support,' said judge Mary Berry. Bake Off remained the most-watched show in Britain, despite news it is leaving BBC and moving to C4 from 2018.
'We're delighted to have this trophy,' said judge Paul Hollywood, who's reunited with Mary and presenters Mel Giedroyc and Sue Perkins for the final time next week in two festive Bake Off specials.
SARAH LANCASHIRE FAVOURITE ACTRESS
HAPPY VALLEY FAVOURITE DRAMA Sarah Lancashire is one of the most modest actresses in the industry, so she was truly taken aback and absolutely delighted when TV Times revealed that she has won the coveted Favourite Actress award when we visit her during filming for the much-anticipated Last Tango in Halifax Christmas special.
If that wasn't enough of a surprise, Sally Wainwright's hit BBC1 thriller Happy Valley, in which Sarah plays no-nonsense cop Catherine Cawood, took the trophy for Favourite Drama.
'Thank you all very much,' sais Sarah. 'Wow, this is amazing. I'm terribly surprised and absolutely thrilled by it. It is wonderful that people have taken the time to vote, and I'm really thrilled that people have taken Happy Valley to their hearts because it's a piece I feel very passionately about. I think what Sally has created and written is quite extraordinary, so to be part of that is the chance of a lifetime, and to be rewarded with a prize like this is the cherry on top of the cake.'
Your Top Three Favourite Actresses
Sarah Lancashire
Jenna Coleman
Keeley Hawes
Your Top Three Favourite Dramas
Happy Valley (BBC1)
Poldark (BBC1)
The Night Manager (BBC1)
JAMES NESBITT FAVOURITE ACTOR James Nesbitt has stolen our hearts all over again as wise-cracking Adam in ITV's triumphant revival of Cold Feet - and winning the TV Times Award for Favourite Actor was the icing on the cake in what has been a brilliant year for the star.
James, who received an OBE from the Queen in March, is currently filming the second series of Sky1 drama Lucky Man, but was delighted to take time out to collect our trophy.
'I'd like to thank every single reader of TV Times for this unexpected award - and their continued support means a huge amount to me. I'm a LUCKY MAN,' he smiled.
Your Top Three Favourite Actors
James Nesbitt
Aidan Turner
Benedict Cumberbatch
THE CHASE FAVOURITE QUIZ SHOW
Bradley Walsh's teatime series The Chase shows no sign of losing its place in your affections, scooping the Favourite Quiz Show award yet again!
'Incredibly, this is the fifth year on the trot that The Chase has won. We're going to need a bigger mantelpiece,' said Bradley. 'People say it's not about the winning, but when you're up against University Challenge, Pointless, Countdown, Fifteen to One and Tipping Point, it is all about the winning. So thank you for voting for The Chase.'
Even notoriously hard-to-please Chaser Mark 'The Beast' Labbett cracked a rare smile when he heard the show had won again.
'We're tremendously proud and thankful that we have won the TV Times award for the fifth time,' said Mark. 'We take great pride in The Chase being a family show, which is part of the daily routine for millions of viewers.'
Your Top Three Favourite Reality Shows
The Chase (ITV)
Pointless (BBC1)
Tipping Point (ITV)
LEN GOODMAN EDITOR'S SPECIAL AWARD FOR OUTSTANDING CONTRIBUTION TO TELEVISION
STRICTLY COME DANCING FAVOURITE REALITY SHOW There wasn't a dry eye in the TV Times office when Len Goodman revealed this series of Strictly was to be his last. After 12 years of fleckerls, pickled walnuts and completely rebranding the number seven, Len is waltzing away, but not before he accepts our Editor's award for Outstanding Contribution to Television.
'This is just wonderful!' beamed Len, as we hand him the trophy. 'Listen, I've never won anything! I got a medal about 50 years ago for a bit of ballroom dancing but other than that, nothing. This has come right out of the blue, it's a shock and it makes me feel like a very special boy.
"May I just say thank you to all the people behind the scenes at the TV Times for their support. I'm going to come down to the office and give you all a little cuddle!'
We're ready when you are, Len…
Meanwhile, you also voted Strictly your Favourite Reality Show and professional dancer, Aljaz Skorjanec, who partnered Daisy Lowe this year, couldn't be happier.
'I feel so proud and blessed to be part of the best show on television!' he smileed. 'Thank you very much to all the TV Times readers who voted!'
Your Top Three Favourite Reality Shows
Strictly Come Dancing (BBC1)
The Great British Bake Off (BBC1)
Britain's Got Talent (ITV)
DANNY MILLER, FAVOURITE SOAP STAR
ISOBEL STEELE,FAVOURITE NEWCOMER Isobel was thrilled to scoop the trophy for Favourite Newcomer for her role as Aaron Livesy's feisty half-sister, Liv, in Emmerdale.
'I couldn't stop smiling all day when I found out,' smileed the 15-year-old. 'The last thing I won was a cheese hamper in a local talent contest.'
Just as delighted was Isobel's on-screen brother, Danny Miller, who couldn't praise his co-star highly enough. 'She surpasses my expectations day after day,' he told us. 'She knows her lines, your lines and the stage directions and she'll do 10 scenes – all whilst studying for her GCSEs.'
Talented Isobel first appeared on our screens in February as part of Aaron's abuse storyline, and it's Danny moving performance in that plot which prompted you to vote for him as your Favourite Soap Star.
'It means so much when it's a viewer vote,' said Danny.
The pair's success caps off a memorable year for Emmerdale. Back in May, the show was crowned Best Soap at the British Soap Awards for the first time in the event's 17-year history. Isobel has described it as 'the best year of my life' while Danny said, 'It's one of the worst years for Aaron, but the best for me.'
Your Top Three Favourite Soap stars
Danny Miller, Emmerdale
Steve McFadden, EastEnders
Jack P Shepherd, Coronation Street
Your Top Three Favourite Newcomers
Isobel Steele, Emmerdale
Milo Parker, The Durrells
Ceallach Spellman, Cold Feet
PAUL O'GRADY, FAVOURITE PRESENTER
PAUL O'GRADY: FOR THE LOVE OF DOGS, FAVOURITE FACTUAL SHOW He's done it again! The hilariously outspoken Paul O'Grady has scooped another two TV Times Awards, as you voted him your Favourite Presenter, and chose his heart-warming canine series as the Favourite Factual Show.
You'd think Paul would be used to winning awards by now, but it seemed he's still in shock. 'I can't believe it, it never ceases to surprise me when I win anything' he exclaimed when we meet up for a celebratory cuppa.
'It makes me laugh because the series has been going for ages and so have I! I don't work for awards, but it's so gratifying to win them, especially when I've just spent six months in the dogs' home. We make telly for the public, not for execs or ourselves, so it's really lovely that people enjoy the show and have voted. Please make sure you thank all the TV Times readers for me!'
Not that Paul needed trophies to prove his popularity – he can barely leave the house for fans wanting to chat to him. 'I miss trains sometimes, people come up to me all the time,' he said. 'They tell me all their darkest secrets. They even ask me to diagnose their rashes, I don't know why!'
Your Top Three Favourite Presenters
Paul O'Grady
Ant & Dec
Bradley Walsh
Your Top Three Favourite Factual Shows
Paul O'Grady: For the Love of Dogs (ITV)
24 Hours in A&E (C4)
Countryfile (BBC1)
GAME OF THRONES FAVOURITE DIGITAL SHOW Only the bravest (or most foolish) TV shows would dare to go up against the mighty Game of Thrones in the TV Times Awards! It was a brutal battle, but the fantasy epic has seen off the competition once again, claiming the title of Favourite Digital Show.
'Thanks so much. We're really proud to win this award for the second year running,' said Daniel Portman, aka Podrick. 'Look out for a new season next summer.'
We made a special trip to Westeros to deliver the trophy, but Daenerys (Emilia Clarke) was busy with her dragons and Jon Snow (Kit Harington) said he 'knew nothing' about it. Charming!
So when the new queen of the Seven Kingdoms, Cersei (Lena Headey), popped out for a tea break, we grabbed our chance to leave the prized trophy in the coveted – and uncomfortable, we can confirm – Iron Throne…
Your Top Three Favourite Digital Shows
Game of Thrones
Say Yes To The Dress UK
House of Cards
BENIDORM FAVOURITE COMEDY It's time to crack open the Cava! ITV's Spain-set comedy has won our Favourite Comedy Award for the second year running and Steve Edge, who plays Billy Dawson, was delighted to accept the award on behalf of the cast and crew.
'It's brilliant that Benidorm has won the Favourite Comedy Award. TV Times has always been one of the greatest supporters of our show,' said Steve.
'The fact that it was the readers who voted for us makes this prize all the more special. Thanks from the cast, crew and producers of Benidorm. This means so much to each and every one of us.'
Fans have already booked their spot on the sofa for next year's ninth series, when our favourite sunseekers including the Maltbys and the Dawsons will be back topping up their tans. ¡Muy bien!
Your Top Three Favourite Comedies
Benidorm (ITV)
Birds of a Feather (ITV)
Would I Lie to You? (BBC1)
Get the latest updates, reviews and unmissable series to watch and more!
Thank you for signing up to Whattowatch. You will receive a verification email shortly.
There was a problem. Please refresh the page and try again.