Idris Elba's Fight School: release date and all we know about the reality series
By Sean Marland published
Idris Elba's Fight School meets eight young men and women who want to transform their lives in the ring...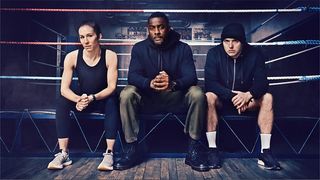 (Image credit: BBC)
Idris Elba's Fight School is a new BBC2 series that will see the Hollywood star helping eight British youngsters from disadvantaged backgrounds turn their lives around.
Over the four episodes, the young men and women will spend five months training with former national boxing champion Rachel Bauer and pro-boxing coach Greg White, to prepare a real bout against top amateurs from the British army at prestigious London boxing venue, York Hall.
Will Idris and the coaches be able to help them fulfil their dreams? Here's everything we know about the series...
Idris Elba's Fight School release date
Idris Elba's Fight School will debut on BBC2 on Sunday April 17 at 9pm. All episodes will be available straight away on the BBC iPlayer.
What is Idris Elba's Fight School about?
A BBC synopsis reads...
"Having witnessed first-hand how a community of young people in South Africa were empowered and transformed by the introduction of a local boxing club, Idris is determined to implement his own bespoke Fight School back home in the UK.
"In this life-changing and highly personal project, Idris wants this intensive course of boxing training to help arm his recruits with discipline, ambition and mental resilience, enabling them to acquire new life skills — and ultimately change their lives.
"Working with some of the country's leading coaches, they'll train twice a day, six days a week, while also having access to a life coach and inspirational mentors. And they'll need all the help they can get — Idris's goal is for them to be able to compete in an official amateur fight at one of the world's most iconic boxing venues, in just five months' time.
"Idris scoured all four nations for his recruits, whittling down hundreds of applications before selecting his chosen team. Now it's time for Idris and the Fight School coaches to meet their first ever intake: eight young people determined to throw themselves into Idris's life-changing project for the next five months."
What does Idris Elba say about the series?
Why did you want to make this series?
"I see history constantly repeating itself and can empathize with these kids. I believe there is a better way to teach people that you don't need knives to protect yourself. It's a proven fact that in urban areas where fight schools open, violent crime drops dramatically — which is why I wanted to do this project, in hope that we can change people's lives. I want this project to be an ongoing presence that will continue to provide support and education for the community for years to come."
How did boxing help you when you were a young man?
"When I was young, I joined a boxing club and my trainer Joe took me under his wing, which was a real turning point in my life teaching me discipline and control moving forward. During my own experience of fighting there was a level of peace I was able to achieve. Boxing requires you to switch off all the noise and focus on the moment, a skill that I believe all people need, especially younger people who need direction. Looking back at my own experiences, I'm reminded of how powerful boxing can be on disadvantaged young people, giving them a sense of purpose. This was the inspiration behind Fight School."
Tell us what you've learnt from this process and what the most challenging elements were?
"This was my first time filming something like this, a social experiment of sorts. Taking on the responsibility with these young people's lives is not something I take lightly, and I wanted to be there for them as much as possible and to make sure that there was an incredible support group of trainers and mentors around them as well. As the process went on, we dealt with our fair share of injuries and sadly some of our students were not able to stay throughout the duration of the process. Saying goodbye was the hardest part."
What was the biggest highlight filming this series for you?
"There were so many but seeing the students conquer their fear of swimming and being able to jump in the river with them was a highlight. Being able to do something like that with them was a great way to bond. I was so proud of them. That's an experience they will never forget, and I certainly won't either."
Idris Elba's Fight School trailer
There's no trailer for this one available yet, but we'll be sure to post it here as soon as it drops!
Sean has been writing about all things telly for over 10 years and in that time he's been lucky enough to interview stars like Ian McKellen, Tom Hardy and Kate Winslet. His favourite shows are The Great British Bake-Off, People Just Do Nothing and Succession and in his spare time he enjoys drinking tea, doing crosswords and watching football.
Get the latest updates, reviews and unmissable series to watch and more!
Thank you for signing up to Whattowatch. You will receive a verification email shortly.
There was a problem. Please refresh the page and try again.