Rylan: 'I'd like to do more singing when the time is right'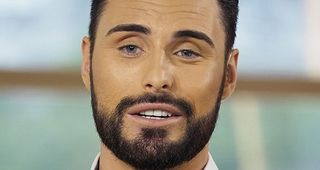 (Image credit: Ken McKay/ITV/REX/Shutterstock)
It's hard to believe that Rylan Clark-Neal is only 27. The This Morning and Big Brother presenter tells us how he deals with fame and all about his future plans…
Fast becoming a national treasure, it's actually just four whirlwind years since Rylan Clark-Neal became a household name as one of The X Factor's most colourful contestants ever.
Rylan then secured his place in the TV nation's affections by winning 2013's Celebrity Big Brother.
Now, he's a regular presenter on This Morning and Big Brother's Bit on the Side, has his own chat show Up Late with Rylan, plus an autobiography published this week.
As we caught up with him for a natter, Rylan told TV Times about the most important things in his life…
Big Brother "I'm obsessed with Big Brother; it has been the biggest part of my life. It was there when I was 12 watching it as a kid and then it came back into my life when I was 18 [Rylan was chosen as a housemate, but wasn't allowed to take part when the news leaked to the press].
"Then I won the Celebrity one and then I hosted it and got a husband from it! [Rylan met ex-cop Dan when he was a contestant in 2013 and Rylan was hosting Big Brother's Bit on the Side] It's bizarre!
"I love everything about Big Brother and will do until the day I die."
The X Factor "The X Factor was crazy; 2012 was the year of the Olympics, the Queen's Diamond Jubilee – and Rylan! It changed my life and gave me a platform. But for me it was a show and I was very aware that I was playing a part within that. I regret some of the outfits though; I looked like a really bad drag queen. I completely blame the stylists!
"I would like to do more singing when the time is right. My music will happen, though, and it will shock a lot of people. For all you know, you might have already heard it and just not known it was me!"
This Morning "I love This Morning. I've literally got the best job in the world because the way I host the show is as if I am sitting at home watching it.
"I ask the questions that I'd be screaming at the telly. This Morning has been massive for my career because they took a risk by having me on such a big show in the early days talking about rubbish and four years later, I'm hosting it. It's ridiculous.
"I've learned a lot from the other presenters. From Ruth and Eamonn I've learned that you can have a row on live television with your husband and not be worried about it [husband Dan has recently hosted the show with Rylan].
"Ruth and Eamonn are like my telly mum and dad, though. I cringe when Ruth twerks or when Eamonn says something dirty, but they are always there to tell me when I have done a good job and there are not a lot of people who do that in this industry."
Fame and family "The most important thing to me is my family, they are my life and I'd give up everything if they asked. So I am Ross [Rylan's real name] at home and Rylan on telly.
"That is the only way I can deal with fame. It is the same person, but two different versions so I will sit at home in my tracksuit looking like a tramp – my poor husband! – and then Rylan on the telly has got all the lipliner and hairspray."
The Future "I've a couple of exciting projects I can't talk about and I'm sure my chat show will happen again, but I can't say too much. I would love to get all five Spice Girls back together on it and Hillary Clinton. I can deal with being starstruck now, but it is fun when these people are excited to see me!
"Acting is still something on my list too. I'm in the Absolutely Fabulous film and I really enjoyed that, it was such a laugh [Rylan plays a flight attendant]. It was surreal standing there having a cigarette with Patsy and Edina [Joanna Lumley and Jennifer Saunders], I loved every minute.
"As EastEnders is only filmed over the road from Big Brother maybe now I could be one of the long lost Mitchells or maybe a Slater, actually, because I couldn't shave off my hair!"
The Life of Rylan by Rylan Clark-Neal is published by Century
Get the latest updates, reviews and unmissable series to watch and more!
Thank you for signing up to Whattowatch. You will receive a verification email shortly.
There was a problem. Please refresh the page and try again.