Helen George: Trixie is back in Call the Midwife, but she's 'aghast' at all the changes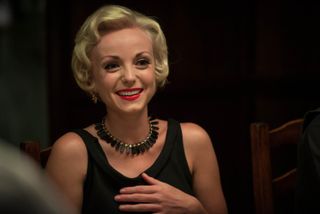 Helen George gives us the lowdown on her welcome return to Call the Midwife as super-stylish nurse Trixie Franklin
After several months in South Africa, plucky midwife Trixie Franklin, played by Helen George, returns to Poplar in Sunday's Call the Midwife.
TV Times found out just how much Helen has missed Nonnatus House…
Welcome back to Call the Midwife! How does Trixie feel about returning to the fold? "She comes back with a tan and is excited to see her friends and get her roots done! But then she thinks, 'Everything is different. Where is everybody?' She's aghast about the changes that have happened and she shouts at a few people!"
Does Trixie have a new purpose when she comes back? "Yes, she is going forward with the keep-fit again because she hasn't been working out so she is off the biscuits for a couple of months! But she just has a new determination and sense of confidence as she returns. She's learnt a huge amount about herself and her medical capabilities."
Will there be any new romance for Trixie? "There is possible love in the air – you'll have to watch! But with any relationship, it is about how she deals with her alcoholism and whether she confesses to it without scaring someone off."
Are you enjoying the fact that Call the Midwife is now set in 1962? "It is lovely that this year you really start to see the vibrancy of the '60s. It's fun and the music gets really good. But even though we are in 1962, Poplar was about 10 years behind the rest of London so we are still not quite there fashion-wise, there is no PVC yet! But hemlines are definitely getting higher."
Several of your original colleagues have left the Call the Midwife, what keeps you on board? "It's rare to have a character like Trixie who develops over a long period of time. I've been incredibly lucky to be given such strong writing and jobs as good as these seldom come along in an actor's life. It has been the making of me professionally and personally. I've learned a huge amount."
During your absence from the Call the Midwife, you did a tour of After Miss Julie, [a post-war take on Strindberg's Miss Julie] playing a flirtatious but troubled aristocrat. Was that fun to do? "Oh it was great to go back to the theatre and to play a completely wild character. I think it was important for my growth as an actress. But I missed my friends on Call the Midwife desperately."
Do you feel there is a special bond between you and the other cast members such as Jenny Agutter [Sister Julienne], Bryony Hannah and Judy Parfitt [Sister Monica Joan] who started the Call the Midwife journey together? "Yes, there is. There's a care and love that I feel from them and I hopefully give to them. I've got a lot of love for those nuns! I really miss Pam Ferris [who played the late Sister Evangelina] and I still can't watch the funeral episode. But we received news recently that Pam won a potato-growing contest in her local village and we keep hearing these stories about her magic pumpkins that are bigger than everybody else's!"
Call the Midwife screens on Sunday on BBC1 at 8pm
Get the latest updates, reviews and unmissable series to watch and more!
Thank you for signing up to Whattowatch. You will receive a verification email shortly.
There was a problem. Please refresh the page and try again.