Midwife's Helen George: 'She's still smoking and drinking, but Trixie is growing up'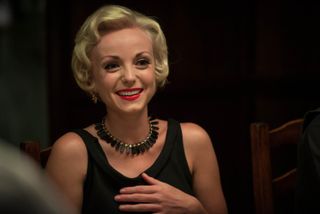 Helen George, who plays midwife Trixie Franklin in BBC1's Call the Midwife, tells What's on TV why the fun-loving nurse needs to grow up, before the swinging Sixties come to Poplar...
Call the Midwife has reached the 1960s. Will this be a time of change for the residents of poverty-stricken Poplar?
"There is a little bit of that. but Poplar was always a few years behind the rest of London, so it is sort of still in a time warp. It doesn't feel any different, but there are some eye flicks and sneaky backcombing going on – so little changes like that, but no swinging Sixties-style PVC boots or miniskirts. It's more subtle."
Trixie has always been the most fashion-forward Call the Midwife character. Can we expect interesting period pieces?
"We have a great costume designer [Ralph Wheeler-Holes]. He's really good at pushing Trixie and bringing lots of loud prints into her dresses and things. And because Trixie is going into a different era and also stepping out with a fella now, she's being a little bit more grown-up and donning some more sensible attire!"
Are we going to see her maturing in other ways?
"Yes, she's growing up a bit in this series! You'll see different sides to her. She's still smoking and drinking and talking about boys, but there is a real change in her."
In the opening episode Trixie's romance with her vicar boyfriend, Tom (Jack Ashton), seems threatened by his parish duties. Is it challenging for the fun-loving nurse to date a vicar?
"I think so. If you were to ask what sort of a guy would Trixie fall in love with, you'd never think a vicar would be top of the list!"
Why do you think she has?
"He's literally on her doorstep, so I suppose it's not the most exotic situation, but she really is thriving on the role of being a vicar's girlfriend. In her head she likes to play a role or be a character. You see it in the way she dresses for different occasions and takes on different personas. And this is shown in her relationship with the vicar."
Does it make a nice change to play Trixie in a romantic situation?
"Yes, [before] there was nothing! Jack and me get on really well, so it's been fun. It's really nice to see how Trixie behaves with a man and interesting to see her ideals, and what she wants out of life and a relationship."
In the opening episode Trixie is visibly affected by a heartbreaking story about a family of neglected children. Is this indicative of the new series?
"I thought there were no more stories left about childbirth, but it turns out there are so many! There are some really challenging themes and some really harrowing stuff coming up. I think it's going to be a tear-jerker of a series."
Maybe a wedding is needed…
"The first question I always get asked by people in the street is, will Trixie marry the vicar?' I don't know… but she loves him!"
Find out if Tom can cheer Trixie up when he presents her with a small box in Call the Midwife, Sunday, January 18, at 8pm on BBC1.
Get the latest updates, reviews and unmissable series to watch and more!
Thank you for signing up to Whattowatch. You will receive a verification email shortly.
There was a problem. Please refresh the page and try again.