Amanda Henderson: Robyn needs time to cope with Glen's death after Casualty shocker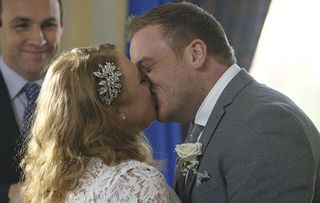 (Image credit: BBC / Alistair Heap)
Amanda Henderson reveals how Casualty nurse Robyn Miller will cope now her husband Glen has died…
Tonight Casualty fans were left devastated when hospital porter Glen Miller finally succumbed to the brain cancer he'd been bravely battling for some time, leaving Robyn devastated.
It was an emotional episode of BBC1's long running medical drama, which saw newlyweds Robyn and Glen go through a series of heart-breaking decisions before deciding to make Glen as comfortable as possible in his final hours.
We talked to talented Amanda Henderson, who plays Robyn, about the tragic events surrounding Glen's death and what lies ahead for Robyn and baby Charlotte…
Was Robyn in shock when paramedics Iain and Sam turned up at the car crash?
"When paramedics Iain and Sam came to help Robyn and Glen after the crash Robyn was heavily concussed. Nothing was coming through clearly to her mind, just sheer panic and pain. But as soon as Robyn came round a bit more she realised Glen had a brain seizure and she had watched it happen."
Events escalated when Glen was admitted to the ED. What was going through Robyn's mind?
"Robyn insisted that everyone concentrated on Glen. He became Robyn's number one priority. There were a lot of tears. She knew this day would come at some point, but didn't expect it on their wedding day."
Was it emotional to film?
"I think I was physically dehydrated from crying during filming! It's one of my favourite Casualty episodes - although one of the toughest, with every emotion possible. I fully enjoyed working with Amanda Mealing, who directed, Owain Arthur, who plays Glen, and the whole crew."
There was a touching balance between deep sorrow and warm humour, characteristic of Robyn and Glen's relationship. Was that important to capture?
"Yes, that's the basis of their relationship – the fact they are humorous and enjoy each others' company so much that they can make light of any situation."
How will life look for her once she's laid Glen to rest?
"We will see the aftermath for her but I won't go into it too much now. She's going to need time off work, obviously. Time off is the only way to cope with it. I'd like to say this gave me time off too, but it didn't!"
Has it been difficult to keep this storyline secret for so long?
"It's been tough, trust me! We filmed it over Christmas so we made our cast Christmas meal Owain's leaving drinks as well. Owain's an amazing actor. We've both enjoyed doing the serious stuff but adding a bit of light-heartedness to it."
Who is on hand to support Robyn during this time of traumatic loss?
"Charlie and Duffy are Robyn's rock. They're the family she hasn't really had. I don't think she could be without them at this point. They do so much for her and Charlotte, and so much for Glen at the end as well, that they are literally like mum and dad."
Casualty continues next Saturday on BBC1.
Get the latest updates, reviews and unmissable series to watch and more!
Thank you for signing up to Whattowatch. You will receive a verification email shortly.
There was a problem. Please refresh the page and try again.