Amanda Henderson: 'Robyn thinks Glen is a flight risk!'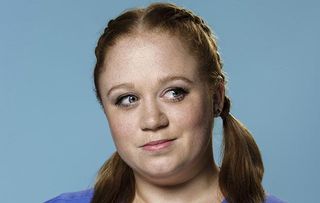 (Image credit: Alistair Heap)
Casualty star Amanda Henderson talks about nurse Robyn Miller's complicated relationship with Glen Thomas…
Saturday's Casualty saw nurse Robyn Miller receive TWO marriage proposals from Holby ED porter Glen Thomas. What's on TV talked to Casualty's Amanda Henderson and found out why Robyn said "no" before she said "yes"!
Here multi-talented stage and screen star Amanda Henderson reveals what's next for Glen and Robyn in Casualty…
Not one, but two marriage proposals in one episode. Why did she initially say "no" to Glen, even though she clearly loves him?
"Robyn thinks Glen is a flight risk! Robyn's been through so much with her baby. Robyn would do anything for Charlotte. However, changing her surname to Thomas means sharing Charlotte a bit more with Glen – and he could fly off again…"
It's understandable. After Glen left her, Robyn had to cope with so much alone – including giving birth in a graveyard!
"I'll never get the birth in the graveyard out of my head! Yes, Robyn's been through so much - the birth, and then the flat fire leaving her without anywhere to live, while being a single mum and living on a nurse's wage!"
So why has she allowed Glen back into her life?
"Robyn feels it's great that Glen wants to be part of Charlotte's life, especially because she doesn't have a close relationship with her own parents. She doesn't want that for Charlotte."
Do you think this means Robyn's over the shock of Glen coming back from the dead?
"I don't know if anybody would ever get over that! I think there's always that small doubt in her mind. Obviously it's amazing the person she loves isn't dead but, at the same time, Glen fully betrayed her. He left her at the altar. Robyn and Charlotte are a tight little unit and although Glen's a part of that she doesn't want him to break their close mother-daughter relationship."
Were you aware of the plans to bring Glen back so dramatically?
"Not originally. When we filmed Glen leaving Robyn at the altar, Owain Arthur and myself said our goodbyes. So I didn't know, but apparently he did! When Owain got the official call he phoned me and revealed he was coming back!"
Let's talk more about the first proposal. Was she as shocked as she seemed?
"It came totally out of the blue – she wasn't expecting it at all! Glen knows what he wants. If Robyn's adamant about Charlotte's surname being Miller he thinks, why not get married, sort it all out, and live happily-ever-after. But Robyn doesn't want to be naïve; she no longer thinks happily-ever-after exists."
Why did she change her mind and say "yes"?
"Neither of Glen's proposals are romantic and nothing in Robyn's life has gone the way she's planned. But, as she comes to realise Glen and Charlotte are her family Robyn begins to relax."
Does this mean a big wedding and invites being sent to Zsa Zsa, Zoe and Max?
"Initially Robyn's very cautious but after saying 'yes' she starts to get over-excited about the wedding and allows herself to start planning their future. I can't say much more, as it will give too much away. You'll have to wait and see what happens!"
Casualty continues on Saturday evening at 8.20pm.
Get the latest updates, reviews and unmissable series to watch and more!
Thank you for signing up to Whattowatch. You will receive a verification email shortly.
There was a problem. Please refresh the page and try again.