Casualty set for intake of new nurses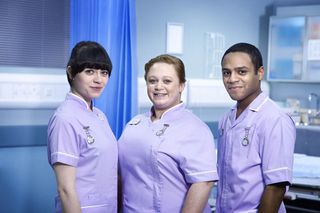 (Image credit: BBC/Richard Ansett)
Casualty is set for an intake of new faces as four trainee nurses join the show this week. Gemma-Leah Devereux, Amanda Henderson, Rebecca Newman and Daniel Anthony, play newcomers Aoife, Robyn, Ally and Jamie, and the young actors admit they are already struggling with the medical lingo. Amanda told Inside Soap magazine: "One of the joys of playing a student nurse is that you don't need to know that much medical lingo! "I've only had two technical words to say so far - and both times I messed it up! But mostly we're just standing by and watching while our mentors do all the tough stuff." She added: "We went to a real A&E department for a day before we started. We were offered the choice of going to either the majors or minors department, and I was quite happy to stick with minors!" Meanwhile, the four characters will get a special introduction in an online webisode available on the official Casualty website. Nurse Factor shows Ally, Aoife, Jamie and Robyn messing about using their camera phones to interview each other about their final training placement and their fears of working in a busy Emergency Department. Twitter accounts for the four trainees have also been set up for fans to follow. Gemma-Leah revealed the student nurses, who are all assigned mentors at Holby City Hospital when they arrive, are a bit too cocky at first. She said: "The students are all a bit nervous to start with. "It's their final placement before they become qualified nurses and they're going for gold. They come in thinking they know everything - and Aoife is particularly self-assured. But it becomes apparent quite quickly that this lot don't know as much as they like to think they do!"
Get the latest updates, reviews and unmissable series to watch and more!
Thank you for signing up to Whattowatch. You will receive a verification email shortly.
There was a problem. Please refresh the page and try again.