Casualty star Michael Stevenson: 'Casualty are not letting up on Iain'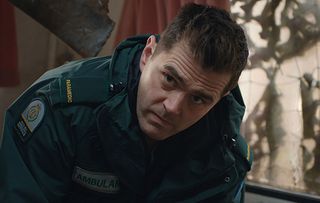 (Image credit: BBC)
Casualty star Michael Stevenson reveals new shocks and storyline twists are on the way for troubled paramedic Iain Dean
We're nail bitingly worried about paramedic Iain Dean in Casualty this Saturday. Iain's secret suffering with PTSD has resulted in heart-breaking, risky behaviours lately.
In this week's episode of Casualty his death-wish mentality escalates during an alarming altercation with farmer Mark. Desperate to stop his family farm being repossessed, Mark pulls a gun (a Luger, no less, fact fans) and fires it repeatedly, seriously injuring a hapless bailiff, whose heart isn't really in the job.
Iain steps forward claiming he counted the shots and no bullets are left in the gun. But we're counting too Iain, and not sure we trust your judgement…
Here we talk to Casualty star Michael Stevenson about working on Iain's weighty storylines…
Warning: contains spoilers!
Iain's a real worry at the moment!
[Laughing] "You're telling me… try playing him for a year, I'm knackered! It's been a tough year for Iain, and just when you think there might be some sort of salvation, another spanner is thrown into the works."
Are you as worried about him as fans are?
"Receiving production drafts for up and coming episodes to see what is coming is always an anxious moment. They're not letting up on him!"
Are you enjoying the challenge of playing him during this troubling time?
"Definitely! While it's not been a barrel of laughs for Iain at Holby recently, it's been great stuff to get my teeth into."
He needs a beach holiday! Can you persuade them to write one in?
"I have tried! When Lucy Rafferty, our series producer, came to see me about the storyline, she said to me 'you're going to be quite busy'. When I told her I didn't think I'd be as busy as the year before, she said she thought I might be… and she certainly stuck to her word!
"When we started planning the Mia storyline and ambulance flip last year, none of us wanted it to be a ten-episode thing. Iain's going through a whole spectrum from PTSD to depression, and we wanted to make sure the story was told as truthfully as possible. It's been given an amazing amount of consideration."
It's a serious time for Iain on screen, but is it fun behind-the-scenes?
"Yes, absolutely. I think that's what gets you through a storyline like this. You've got a brilliant crew there, and working with Maddy [Hill, who plays Ruby Sparks] and Di [Botcher, who pays Jan Jenning] is brilliant. We did some heavy filming just before Christmas on a particular shoot, and every time they shouted cut someone would put the Christmas songs on to jolly the mood up. And you can't argue with that, it's good to have a laugh too."
Did you enjoy filming this week's gun siege scenes?
"We had such a laugh while filming this. Maddy and I kept looking at each other wondering if we'd got the maths right when counting the shots. Next week's episode will pick up directly after this week's, and you'll see Iain hasn't really had a moment to register what's just happened…"
Watch Iain's terrifying gun siege in Casualty this Saturday on BBC1 at 8.40pm. For more from Michael Stevenson on what happens next in this pick up What's on TV magazine, on sale from Tuesday 29 January 2019
Get the latest updates, reviews and unmissable series to watch and more!
Thank you for signing up to Whattowatch. You will receive a verification email shortly.
There was a problem. Please refresh the page and try again.