Casualty spoilers: Iain and Ruby suffer hostage hell!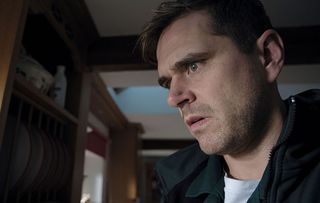 (Image credit: BBC)
Paramedics Iain and Ruby are held hostage at gunpoint, Alicia cuts her final ties with Holby, and will Louise fight back in this Saturday's hugely dramatic Casualty?
Casualty this Saturday sees paramedics Iain Dean and Ruby Sparks at the centre of a terrifying hostage situation when they attend an emergency call at a remote farm.
Farmer Mark has injured his leg while trying to make his property more secure with barbed wire. Ruby (Maddy Hill) however, is alarmed by Mark's erratic behaviour and concerned for his heavily pregnant wife Tilly. But soon Tilly suddenly going into labour is the least of everyone's worries when bailiff Len turns up with court orders to repossess the farm!
Desperate to keep the family farm, Mark frantically rips the barbed wire from his leg and races inside, with everyone following! Once inside Mark grabs a gun and holds everyone hostage in the kitchen.
Matters escalate when Iain and Tilly's attempts to calm Mark down backfire. Mark snaps and begins firing the gun randomly! Terrified Len takes a bullet to the stomach and is in serious danger of bleeding to death unless Ruby and Iain can urgently treat him. It's at this point ex-solider Iain (INTERVIEW EXCLUSIVE: Michael Stevenson speaks to us about the dramatic story) makes a nail-biting life and death decision to end the siege…
Iain confronts Mark and tries to get him to hand the gun over, claiming its empty of bullets because he's counted the shots. Iain, who's been displaying risky behaviour recently while secretly coping with PSTD, could be committing certain suicide if he's wrong. Ruby, who's also counted the shots isn't so sure the gun is empty, but even so, Iain ignores her terrified pleas not to approach Mark.
It's a disturbing gamble. Is Iain about to die at gunpoint?
Louise's faith in the NHS at breaking point in Casualty this Saturday
Dedicated senior nurse Louise Tyler is struggling to make ends meet thanks to debts resulting from hospital parking fines and a recent increase in her rent. Which is why this week demoralised Louise, who has been forced to use food banks, really needs a win. When homeless patient Ernest comes in for a check up, Louise is certain the system can help him. However, she's left questioning everything she believes in when Ethan discovers Ernest is in urgent need of life-saving surgery yet arrogant new consultant Mr Aykroyd refuses to operate.
Will an unexpected battle cry from junior nurse Marty, spark a glimmer of hope back into normally gutsy Louise?
Meanwhile, Only Fools and Horses legend, Paul Barber (who played Denzil in the comedy), excellently strikes the balance between doggedness and resignation with a light comedy touch in Ernest.
Also this week
Alicia may have left, but her presence is still felt by many – especially tenants Gem and Ruby, who learn this week Alicia's selling her house. Her ex Ethan is also keenly feeling Alicia's loss.
Ruby is deeply affected by the siege at the farm and goes into extreme shock.
The younger members of the ED rally around a friend in need.
Recovering addict Base is optimistic about the future and even has a job interview lined up. When drug dealer Ross turns up at his flat, will Base be tempted with the offer of a free hit, jeopardising everything he's worked so hard for?
And, in happier news, it's Charlie's birthday! Will Duffy get him a card?
Casualty is on BBC1 this Saturday at 8.40pm.
Get the latest updates, reviews and unmissable series to watch and more!
Thank you for signing up to Whattowatch. You will receive a verification email shortly.
There was a problem. Please refresh the page and try again.