Casualty's Tom Chambers: 'The electricity between Connie and Sam is great!'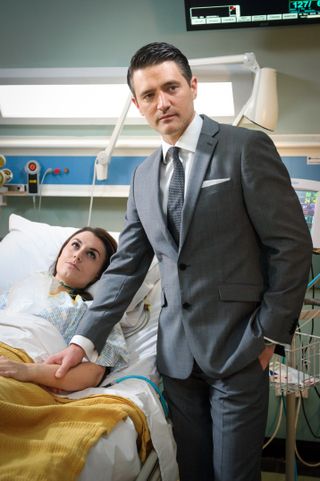 (Image credit: BBC Pictures)
Strictly Come Dancing star Tom Chambers reveals why former Holby City medic Sam Strachan is wandering around the corridors in Casualty this Saturday (BBC1) and putting the wind up his ex Connie Beauchamp!
What leads former Holby City heart surgeon Sam Strachan to visit the ED?
"He's come to the UK from New York to give a three-day lecture as he's now a very respected consultant. He's travelling with his daughter Grace, who's now 11, and his American lawyer girlfriend Emma, who falls ill while he's at the lecture. Grace phones her mum, Connie, saying Dad's girlfriend is unwell, but Connie thinks they're still in America!"
So does Connie get a shock when she sees Grace and Sam at the hospital?
"Yes! They weren't planning to tell Connie they were even in the UK as Grace didn't want to see her mum. The two of them don't really get on. Grace feels her mum is always working and is never there for her. Connie (Amanda Mealing) suffers a lot of guilt over their relationship."
Connie's now dating nurse Jacob Masters (Charles Venn), but how is her relationship with Sam?
"There's still obvious chemistry between them. In the ED, everyone has to bow down to Connie, but because Sam has a child with her, he's the only one who can get under her skin and answer back. The producers wanted Sam to come back older and wiser, but also very manly!"
Sounds like an explosive situation?
"The electricity between Connie and Sam is great! Sam is used to private healthcare in New York so at first, he's very anti the NHS and wants to transfer Emma to a private hospital. But Emma becomes seriously ill and needs an operation, so Connie comes to the rescue!"
It's seven years since you played Sam, were you keen to return to the role?
"Absolutely, I could have stayed at Holby City forever as it was such a wonderful job, but I needed to do other things. Playing him again was great, like stepping into a comfortable pair of shoes. I've filmed two episodes so far, but then later on, something dramatic and very traumatic is going to happen!"
Get the latest updates, reviews and unmissable series to watch and more!
Thank you for signing up to Whattowatch. You will receive a verification email shortly.
There was a problem. Please refresh the page and try again.