Casualty's Chelsea Halfpenny: 'It's fun to watch Cal squirm for once!'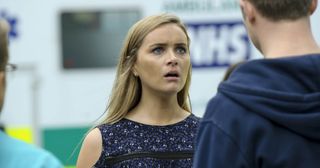 (Image credit: BBC / Alistair Heap)
Cal now knows Ethan and Alicia have been at it behind his back. Chelsea Halfpenny reveals this tense Casualty affair will continue to heat up!
The cheating cat is out of the unfaithful bag now Cal knows Ethan and Alicia have been at it behind his back in BBC1's Casualty. We quizzed star Chelsea Halfpenny about Alicia's brotherly love triangle. She reveals the storyline won't be put to bed overnight…
Cal has just twigged his baby brother, Ethan, slept with his girlfriend, Alicia. Do you think there's any possibility of a happy resolution to this story? "No! We're filming five months ahead and it's still not resolved. Nothing's ever simple in Holby!"
What was your reaction when you got the script to Saturday's revealing episode? "I was so excited. It's great to have an episode that revolves around the personal life of your character. We get to see Alicia's mum and dad, and the affect their marriage split has had on her."
Who would you like to see Alicia with? "If I was to choose I think Ethan would be better for her. But it's all a bit of mess now and getting more and more difficult!"
Have Casualty fans told you who they'd like to see her with? "The majority say Ethan, but I also get lots of tweets saying she's ruining the brothers' relationship! Fans are worried because they love Ethan and Cal together…"
It's all very serious on screen, but is it fun working with Richard Winsor, who plays Cal, and George Rainsford, who plays Ethan? "We have such a laugh and are always giggling. Sometimes it's really hard to keep a straight face, especially in serious scenes. They're both very lovely."
What is it about Alicia that's driving Cal to distraction? "Alicia doesn't realise her disinterest is making him insecure and jealous. We don't often see Cal like this because he usually has the upper hand in relationships. It's fun to watch him squirm on screen for once!"
We can't wait!
For Chelsea's insights into Saturday's episode read more here
Get the latest updates, reviews and unmissable series to watch and more!
Thank you for signing up to Whattowatch. You will receive a verification email shortly.
There was a problem. Please refresh the page and try again.