Casualty star George Rainsford: 'Cal's death will culminate in the darkest stuff Ethan's done'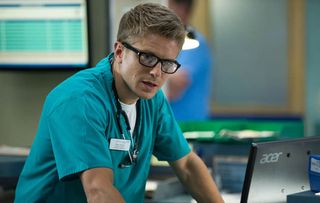 (Image credit: BBC Pictures)
Casualty star George Rainsford reveals Cal's brutal murder results in his brother Ethan hitting turbulent times…
Cal Knight's violent death in Casualty has left fans in shock and will have massive implications for future storylines. Will killer Scott Ellisson be brought to justice? Will Ethan discover Cal (Richard Winsor) was killed trying to protect him? And is this the end of Ethan and Alicia's romance before it's really begun?
Talking to What's on TV, Casualty star George Rainsford, who plays Ethan Hardy, revealed his real heartbreak while filming Cal and Ethan's final scene, why he's going to miss working with Richard Winsor, and what Casualty fans can expect next for grief-stricken Ethan…
Cal's dead!! Are you ready for the reaction on Twitter? "I think the Casualty part of the Internet is going to explode. I've tried really hard to keep work chat off Twitter recently so hopefully Cal's death comes as a surprise. I know lots of people have been trying to guess, and some guessed correctly, but I just hope we've done this sad story justice."
Tonight's final scene is heartbreaking. Was it difficult to film Ethan coming face-to-face with his dead brother? "It was a really hard scene to do. The first time Ethan sees Cal dead in the ED is also the first time I saw Richard there. I rehearsed it without him, then they put Richard in, and put the cameras on me. Hopefully the result is something visceral, real and sad."
How do you prepare for a scene like that? "It's a really hard thing to get yourself into. I locked myself away and listened to sad songs! I also thought about all the things Richard and I have gone through together and how sad it was that he was going."
We've not seen a tragedy like this on Casualty in a while. How is Ethan going to cope? "In the next episode we pick up the story pretty much immediately after Cal's death, maybe a week or so later. Ethan's in a state of total shock and numbness. There is a lot of drama to come!"
There are twists and turns ahead. How did you feel when you discovered Ethan's dark storylines? "Excited but also daunted! When Richard finally knew the details of his exit storyline, I had a story meeting to find out Ethan's involvement and was told 'George, hang out with your children and wife now because soon you're going to be absolutely swamped!' It's going to culminate in the darkest stuff Ethan's done."
Sounds intriguing! Is it challenging work? "It's genuinely been the hardest few months of filming I've done because it's relentless emotion. It's anger, sadness and numbness. All the stages of grief. I'm not one of those actors who can switch it on and off easily so it's been really tiring. Its enjoyable too, but once the day's finished, there's a sense of relief!"
How do you hope Casualty fans react to Cal's death? "I really hope it comes as a surprise, it makes it more exciting. Cal is a hugely popular character and people are going to be sad to see him go. I'm massively sad to see him go! Richard and I joined the show at the same time, he was brilliant to work with and we've become great friends."
Is it odd not having him on set? So many of your storylines were together… "It's been really strange not having him there. All my big stories have been with him. We used to talk things over – he has such an enthusiasm for making the stories interesting and honest. I genuinely miss him. The strangest thing is, much of the stuff we've been filming since is kind of about him!"
Will you continue to stay in touch? "He's coming to Cardiff so we can watch his exit episode together, which is sad-slash-sweet! We've become really good friends. We clicked straight away on our Casualty screen test. I think it helped us get the job. We ended up living together for the first 18 months. It's been a really enjoyable three and a half years. Hopefully it's not the last time we ever work together although, certainly on Casualty, it's pretty final!"
What have been your favourite moments with Richard on Casualty? "The Huntington's storyline was massive for us. It culminated in us going to the beach where Ethan found out he'd Huntington's. It was really well written and Carol Royle, who played our mum, was brilliant. There was a really nice bit at the end where we're all together on the pier when she died.
"On the complete other end of the scale, I loved Charlie's stag do episode in Barry. It was such a fun week of filming. The characters were really hungover and woke up in bed with a sheep, Cal was handcuffed to a briefcase and Ethan got a tattoo that said 'Be More Cal'. Ever since then, if I'm appearing on screen in underwear or something, we have to remember to put the Be More Cal tattoo on my calf!"
Will Ethan be haunted by happier times?
Get the What to Watch Newsletter
The latest updates, reviews and unmissable series to watch and more!
Writer for TV Times, What's On TV, TV & Satellite Week and What To Watch
With twenty years of experience as an entertainment journalist, Elaine writes for What's on TV, TV Times, TV & Satellite Week and www.whattowatch.com covering a variety of programs from gardening and wildlife to documentaries and drama.
As well as active involvement in the WTW family's social media accounts, she has been known to get chatty on the red carpet and wander into the odd podcast.
After a day of previewing TV, writing about TV and interviewing TV stars, Elaine likes nothing than to relax… by watching TV.