Hannah Spearritt: 'I felt like the new girl at school, but Casualty and Cardiff are amazing places to work!'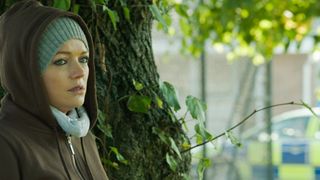 (Image credit: BBC)
Primeval and S Club Seven star Hannah Spearritt is just as excited about her new role in Casualty, as we are to see her in the long-running medical drama.
Talking about joining this established show and cast, Hannah told What's on TV: "I had those feelings of being the new girl at school when I was joining Casualty but everyone's been so warm and welcoming. It's just an amazing place to work."
She added: "Cardiff, where the show is filmed, is so lovely and chilled out. When I first went, I'd never been before, and I wouldn't stop talking about it, because I was so happy to be there!"
Hannah's Casualty character, Mercedes Christie, isn't having such a nice time, however. Down on her luck, and with the bailiffs knocking at the door, the Holby City girl resorts to robbery. But unfortunately for all involved it all goes terribly wrong – not least for Casualty favourites Noel and Big Mac!
Chatting about Mercedes' distinct look, Hannah explained: "It's all jeans and hoodies, and very downtrodden. I'd lilac hair going into the audition I did at Elstree and they liked it, so we've kept that.
"Mercedes is pretty desperate and has debt collectors threatening her in her home. And as things get harder she looks more and more dishevelled!"
Hannah joins the cast of BBC1's Casualty, as new semi-regular character Mercedes Christie on Saturday, January 23.
Get the latest updates, reviews and unmissable series to watch and more!
Thank you for signing up to Whattowatch. You will receive a verification email shortly.
There was a problem. Please refresh the page and try again.