Neet Mohan on Rash turning action hero: The stunt team strapped me to the bonnet of a car!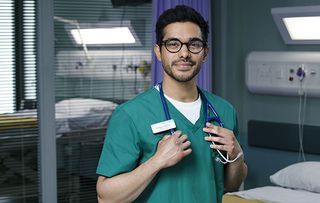 (Image credit: Alistair Heap)
Casualty star Neet Mohan reveals doctor Rash turns action hero on screen – but behind-the-scenes it was a different story
We've bagged an interview with talented Neet Mohan, who plays junior doctor Rash Masum in Casualty!
Since joining Holby ED back in October 2017, junior doctor Rashid Masum has made a splash… mainly in the Casualty bogs! Poor Rash is a sensitive soul and, unfortunately for an ED doctor, he has a nervous habit of throwing up when presented with difficult, gory cases…
This week, however, when Rash's Casualty crush, Gem Dean, is taken hostage, Rash rashly rushes to her aid. Could he finally be about to break his Resus curse once and for all?
Here Casualty star Neet Mohan, who plays Rash, reveals more…
Last week Rash began to conquer his fear of Resus. Is his confidence growing in this week's Casualty?
"Definitely, he has a little pep in his step and feels much more confident in dealing with patients in Resus now."
How long does his new poise last?
"His new confidence suddenly gets challenged this week when he meets and treats Jack, a prisoner who's not quite responding to Rash in the way that he wants. Soon it feels like nothing is going quite to plan."
We know Gem is taken hostage by Jack (Sam Hudson). How does Rash react?
"Since Rash first met Gem (Rebecca Ryan) he's found her intriguing and there's an attraction. When Rash realises prisoner, Jack, has gone missing and Gem's nowhere to be found, he rushes around the hospital trying to find her. Rash knows something doesn't add up and he wants to make sure she's safe…"
Will we see him leap into action, zero to hero style?
"When he sees that Gem's in this scary situation he kicks into fight or flight mode. Jack's about to drive off with Gem in a car he's stolen. Without really thinking, Rash jumps the gun without considering what might happen."
Sounds exciting. Did it involve stunt work?
"Yes, it is a stunt… But it wasn't James Bond by any means! Our lovely stunt team tied me to the bonnet of the stolen car. Sam, who plays Jack the prisoner, had to rev the engine so much that the bonnet got really hot. I had to keep taking breaks because my stomach was overheating!"
We're sure his very protective mum, Madia Masum (Buckso Dhillon-Woolley) will be happy to know he wasn't hurt!
"I don't think she'd be best pleased at Rash's daring. If she had her way she's wrap him up in cotton wool and make sure nothing ever happened to him, ever!"
Will he save Gem? Or will Gem end up coming to the rescue of Rash? Find out when Casualty airs this Saturday on BBC1 at 8.10pm
Get the latest updates, reviews and unmissable series to watch and more!
Thank you for signing up to Whattowatch. You will receive a verification email shortly.
There was a problem. Please refresh the page and try again.