Tonight's the night Cathy Shipton returns to Casualty!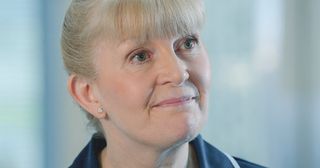 (Image credit: BBC)
Casualty will mark its 1,000th episode with the dramatic return of actress Cathy Shipton as Duffy
Tonight's the night the milestone 1,000th episode of Casualty will be broadcast on BBC1.
Cathy Shipton, who plays Lisa "Duffy" Duffin, featured in the original cast when the medical drama launched in 1986.
The London-born actress spent 17 years in Casualty and is a firm favourite with viewers.
Cathy made a brief return for the show's 20th anniversary in 2006 before popping up again in 2015.
Ahead of Cathy's permanent return in August, the 1,000th episode will fill in more details about Duffy's life away from England.
Duffy will reconnect with her old colleague Charlie Fairhead (Derek Thompson, also a member of the original cast), and reveal why she left her family in New Zealand, which is where she has been living.
Elsewhere in the episode, Dr Elle Gardner (Jaye Griffiths) is given a hard time by colleagues who still resent her for dismissing Charlie.
Dr Gardner's shift is made all the more challenging by a pregnant woman who refuses treatment which may be needed to save her baby.
A Saturday-night stalwart for decades, Casualty has endured due to a combination of powerful writing and acting.
The first series consisted of just 14 episodes and a pilot. Thirty years on, Casualty runs for much of the year.
Memorable episodes include "Closure" from 1986 which revolved around a strike by the night shift to protest against closures.
"Love Me Tender", first broadcast in 1998, featured a heart-rending scene in which Nurse Tina Seabrook, played by Claire Goose, admitted she was raped (below).
https://youtu.be/RSVbE12VI7Q
A poignant favourite is 2010 episode "Nice And Easy Does It". It depicted the assisted suicide of terminally-ill Nurse Megan Roach, portrayed by Brenda Fricker.
Brenda, an original Casualty cast member, won an Academy Award for her performance as Christy Brown's mother in My Left Foot, starring Daniel Day-Lewis as the Irish writer and painter.
She also played Macaulay Culkin's confidante in 1992 movie Home Alone 2: Lost In New York.
Come back to us after Casualty has aired tonight on BBC1, 9.25pm and we'll have more from Cathy about her return to the drama.
Thank you for signing up to Whattowatch. You will receive a verification email shortly.
There was a problem. Please refresh the page and try again.