The Colony | Film review - Emma Watson's plucky heroine takes on a sinister cult in 1970s Chile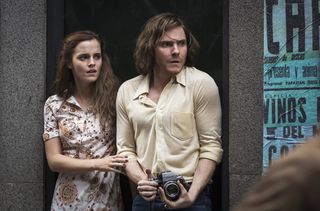 The Colony - Expat couple Emma Watson and Daniel Brühl fall foul of a sinister cult in this fact-based but far-fetched political thriller set in 1970s Chile.
Set against the backdrop of the 1973 coup that toppled Chilean president Salvador Allende and brought dictator Augusto Pinochet to power, political thriller The Colony stars Emma Watson and Daniel Brühl as an expat European couple who fall foul of a brutal religious cult that is in cahoots with the regime.
Arrested in the aftermath of the coup, German student activist Daniel (Brühl) ends up in the clutches of German émigré preacher Paul Schäfer (Michael Nykvist), an ex-Nazi whose ostensibly charitable religious settlement, the Colonia Dignidad (Spanish for Colony of Dignity), more closely resembles a prison camp than a utopian idyll.
Barbed wire and watchtowers encircle the cult's compound, while the men and women inside - dressed for special occasions in folky looking lederhosen and dirndls - are strictly segregated. Secretly, Pinochet's goons use the colony as a torture camp.
Daniel's girlfriend, plucky Lufthansa stewardess Lena (Watson), has little inkling of the horrors that lie in store but is determined to rescue him and infiltrates the sealed-off camp, posing as a believer…
Originally titled Colonia, The Colony is loosely inspired by real events. Shockingly, the Colonia Dignidad did exist and was every bit as viciously strange as depicted here. Schäfer wasn't only an authoritarian bully but a paedophile to boot.
On screen, however, director Florian Gallenberger's film doesn't ring true. With most of the dialogue in English, his movie's authenticity takes a knock from the start, and the plot's contrivances undermine its credibility still further as Lena and Daniel's ordeal becomes increasingly far fetched.
In the film's closing third, the couple's efforts to escape the camp do supply genuinely gripping thrills and spills, but given Watson and Brühl's solid performances and Nykvist's sadistic villainy, a more realistic treatment of the subject would surely have been even more chilling.
Certificate 15. Runtime 110 mins. Director Florian Gallenberger
https://www.youtube.com/watch?v=SiVAGDTmlpY
Get the latest updates, reviews and unmissable series to watch and more!
Thank you for signing up to Whattowatch. You will receive a verification email shortly.
There was a problem. Please refresh the page and try again.