Corrie star Debbie Rush: 'Anna had to be the one to kill Phelan!'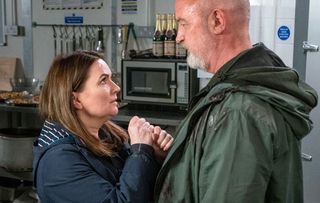 There was a surprise twist in Corrie tonight when Anna Windass returned to the cobbles after being freed from prison - and fatally stabbed evil Pat Phelan.
Five months after she was framed by serial killer Pat Phelan and sent to prison, Anna Windass made a brief return to the cobbles tonight and stabbed her arch enemy to death...
After gate-crashing Michelle Connor and Robert Preston's wedding ceremony at the Bistro, Phelan took Michelle hostage in the restaurant's kitchen. But Anna grabbed a knife and plunged it into her rapist's stomach. In an effort to try and get Anna sent down for murder, Phelan then ignored the advice of Michelle's doctor son Ali Neeson and pulled it out, knowing it would be the death of him, and Anna watched on as he took his last breath.
Actress Debbie Rush talks about her guest comeback, and why it's only right that her Corrie character was the one to end Phelan's reign of terror.
Anna left the cobbles in January when Phelan stitched her up for Seb Franklin's fall. Have you had to be very secretive about the fact that you knew you would be making a brief comeback for Phelan's exit? "Yes! On my twitter account, I put 'Debbie Rush, currently playing Anna Windass' and it was a only a couple of months ago, someone said online 'I think she's coming back because it still says Debbie Rush playing Anna Windass' so I thought "Right, well I'll have to get rid of that very quickly, so as not to give it away!" Our viewers and everyone have always been so lovely and complimentary so I just went quiet for a couple of months, because I didn't want to tell any lies to our viewers."
Do you think this is a fitting end to the Anna/Phelan story? "Yes, she had to be the one to kill him. He was an evil, vicious man and Anna was his first victim on that street, so she had to be the one that killed him off, and I think that our viewers and the nation will thank her for it!"
What was it like filming that scene? "It was great! We have stunt people and paramedics on the set. A lot of work went into knowing exactly where Anna had to stab Phelan without there being too much blood spurting out everywhere, but so it would be fatal when he pulled out the knife."
There was a scene afterwards where Anna and Eileen had a moment of solidarity - did you enjoy filming that? "Yes, because Anna does not have any animosity whatsoever towards Eileen. Eileen was as much a victim as Anna was, just in a completely different way. When Anna went to prison, she felt let down by Eileen because Eileen didn't believe her – she nearly believed her but Phelan twisted things – so Anna went off to prison and everyone on the street thought she'd lost the plot. So I think at the end when you see the two women come together, it is completely Corrie but I also think that in the times we live it's completely womanhood. These two women recognise that they've both been a victim of a really powerful monster. So we had to see them come together and join forces as heroic women."
Why do you think the Anna and Phelan story has gripped the nation? "When we had Richard Hillman, he was a great baddie and we've been waiting for a long time for someone to come along who we know isn't real but is someone whom we can all vent our anger at and shout at the telly. I think it's been great in that aspect, and that people have really got involved. Phelan's been so vile to everybody."
Do you think it's good that a popular show like Coronation Street highlights things like controlling men and rape? "I absolutely do. I've said this all the way through my story – when Anna went into that hotel room to sleep with Phelan, people seemed to forget that the Windass family was groomed and Anna was groomed. Anna was forced into sleeping with Phelan to protect her family, and she was groomed in exactly the same way that Bethany was. But because she was an older woman, people didn't seem to get that. We were split 50 / 50 with the viewers and the press, and people were unsure. So I've stuck to my guns and played it the way that I've played it all the way through, so people knew that it wasn't a choice. She was groomed and he was an evil male predator, not only in the fact that he made Anna sleep with him but everything else he did on the street from killing Michael to everyone else along the way. So I do think we need to highlight these things and I think we've done it incredibly well."
https://youtu.be/_vRu0b5irKk
Following Phelan's death, Anna decided to leave the cobbles and make a fresh start in Durham. Would you consider coming back to Corrie in the future? "Never say never. I've been incredibly lucky. I had a really great time there, and I'm in a privileged position as they seem to like what I do. We'll see what happens. I needed a break."
Are there any new roles in the pipeline? "There was something that I would've done but it clashed with the days that I came back to Coronation Street – I would've liked to have done it, but I wanted to honour this and I love our show so this had to come first. There was another one but it was too long a stint and it would've kept me away from home for twelve months so I said no thankyou to that. So we'll just see. I did twelve hours a day for nine and a half years so I just needed to stop for a while."
Is it hard to think about the next role when Corrie has been such a big part of your life? "I think it is. I've absolutely loved being part of this great show. I've watched this since I was a little girl. It was something that I really wanted to do and I was lucky enough to do it. I'd never say never about going back. I think it's a great job. I was running to get out of the door in November when I left but, when I came back I just loved it; it was so nice to be part of that family again."
What are your favourite Anna moments? "There are so many. I still like when the Windasses arrived in the van at the beginning, they thought the Clampits were turning up and it was such a special time for us off screen as well as on; we were doing a dream job and felt incredibly lucky. When Owen left, I was filming those scenes and literally feeling bereft that one of my best friends had left, and when I watch them back on scene they were great moments. Phelan's death will be another one, I've really enjoyed doing this. Someone has referred to me as 'Anna Badass' which is great!"
Are you still close to Mikey North, who plays your screen son, Gary? "I am, and that's what is hard, because there's a good few in the cast that I'm really close to. I get to speak to them all the time though. Sue (Cleaver, who plays Eileen) and I have been out for dinner and things. They'll always be my friends and that won't ever change."
Coronation Street continues Mondays, Wednesdays and Fridays at 7:30pm on ITV
Get the What to Watch Newsletter
The latest updates, reviews and unmissable series to watch and more!
Alison Slade has over 20 years of experience as a TV journalist and has spent the vast majority of that time as Soap Editor of TV Times magazine.
She is passionate about the ability of soaps to change the world by presenting important, issue-based stories about real people in a relatable way.
There are few soap actors that she hasn't interviewed over the years, and her expertise in the genre means she has been called upon as a judge numerous times for The British Soap Awards and the BAFTA TV Awards.
When she is not writing about soaps, watching soaps, or interviewing people who are in soaps, she loves going to the theatre, taking a long walk or pottering about at home, obsessing over Farrow and Ball paint.