Simon Gregson: 'My third son, Henry, will be two so this will be his first proper Christmas'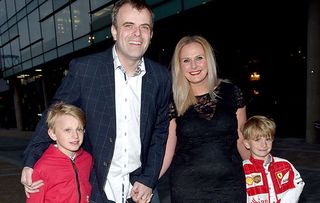 (Image credit: MCPIX/REX/Shutterstock)
Simon Gregson reveals what's in store for his family this Christmas
He's a hoot on telly! But in the flesh, Simon Gregson, who plays Steve MacDonald, is just as funny! Soaplife visited Coronation Street HQ in Manchester to talk Christmas and it's clear Simon is a more than a bit giddy at the prospect of his own family's festive fun…
What's the story?
"My third son, Henry, will be two so this will be his first proper Christmas," actor Simon Gregson told Soaplife. "So, he'll really get what's going on with the excitement. He already has his Christmas present, though, because I just couldn't wait to give it to him after I'd bought it. It's a radio-controlled car he can sit in. After we'd got it, I said, 'I'm having that out now!' Henry's like, 'it's my toy to go in!' " Simon's joking, of course but Christmas in the Gregson household sounds like a laugh a minute!
What's happening in Coronation Street? See the latest soap storylines
Simon Gregson chats to Soaplife about his family Christmas and why he loves being in Coronation Street...
Soaplife: Are we right in thinking you love Christmas, Simon?
Simon Gregson: "I do enjoy it, but my wife, Emma, is absolutely mad on Christmas and she has a bit of a competition going with our very good friends from over the road. The husband is mad on Christmas, too. Emma and him are like, 'Wooo! It's Christmas!' while me and the wife are like, 'Oh God…'"
SL: How far do you go when you say 'mad on Christmas'
SG: "Well, we decorate the garden, the driveway, the outside of the house, the inside of the house… It started in November. Emma just goes mad for Christmas"
SL: Do you host the big day?
SG: "Yeah. That's the usual for us. We always do it. Emma cooks and we'll all be at home - myself, Emma and our boys, Alfie, Harry and Henry. We've got extended family and friends coming over, too."
SL: What are you getting Emma for Christmas?
SG: "That's a difficult one. She doesn't really wear jewellery and she isn't massively into clothes. What am I going to get her? A bike? Actually, we've cut it right down when it comes for buying each other. Me and my sister don't buy for each other any more, either. We just buy for the kids. Actually, a real present for me is the two weeks off we all get from the Street at Christmas and not receiving a filming schedule on my phone!"
SL: A few months ago you received a Variety Club Legend of Industry Award for playing Steve and also for your charity work…
SG: "We started doing some work for kids' charities some time ago. When I met Emma, whose brother has special needs, I got involved in more charities and, of course, we have children of our own now. Everyone when they become a parent feels how important it is. I have to give 95 per cent of the award to my beautiful wife because without her a lot of the charitable functions we do would never have come to fruition."
SL: You've been at Corrie for 28 years now… Are you still happy there?
SG: "Very. I'd love to stay for as long as they'll have me. For me, this is a fantastic job. I've got a lot of friends there and I have a great time doing it. I live very close, so that's good, too. When I started, did I ever see myself here years later? No, of course not. Who could ever be that big-headed?"
Main picture: Rex
Get the What to Watch Newsletter
The latest updates, reviews and unmissable series to watch and more!