Sue Cleaver's ex husband guest stars as Weatherfield cop who wrongly arrested Gary Windass for murder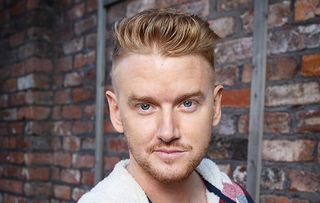 (Image credit: Mark Bruce)
James Quinn played the policeman who wrongly arrested Gary (pictured) for murder
There was quite a turn of events in last night's Coronation Street, when Gary Windass was wrongly arrested for murder, after the cops uncovered two dead bodies at the site of the Legacy Reach project.
But what you may not know was that DS Willets – the officer who gave poor, innocent Gary the bad news - was played by James Quinn, who is the ex husband of actress Sue Cleaver, better known as Eileen Phelan, nee Grimshaw.
Which means that Eileen's fictional husband, serial killer Pat Phelan, could end up getting his commupance by her real life ex hubby!
Gary Windass (Mikey North) and Seb Franklin (Harry Visinoni) were hauled off to the nick for causing criminal damage, after they tried to knock through concrete pillars at the site with sledge hammers. The pair believed that Phelan (Connor McIntyre) had hidden the gun in the concrete that he used to kill mechanic Luke Britton (Dean Fagan), and wanted to find the evidence which could finally bring the evil builder to justice.
But cops then discovered two dead bodies at the site – which Corrie fans will know are the corpses of Andy Carver and Vinny Ashford, whom Phelan shot last October. They assumed Gary was trying to move the bodies and, in a case of putting two and two together and making five, they arrested him on suspicion of murder.
It's not the first time James Quinn has appeared in Coronation Street. He played DS Willetts in 2013 – back then, the fictional cop was investigating the blaze at The Rover's Return, started by Stella Price's partner, Karl Munro.
He has also played a whopping five other characters in the show – including two other coppers. One was DS Cartwright, who questioned bookie Des Barnes in 1995 over an allegation that his boss, Sean Skinner, had robbed and assaulted Steve McDonald.
The other was DI Mannery, who led the investigation in 2003 into the murder of Maxine Peacock and assault of Emily Bishop – both crimes having been committed by serial killer, Richard Hillman.
Coronation Street continues on ITV.
Get the latest updates, reviews and unmissable series to watch and more!
Thank you for signing up to Whattowatch. You will receive a verification email shortly.
There was a problem. Please refresh the page and try again.