Coronation Street's Chris Gascoyne: 'I don't like Peter Barlow'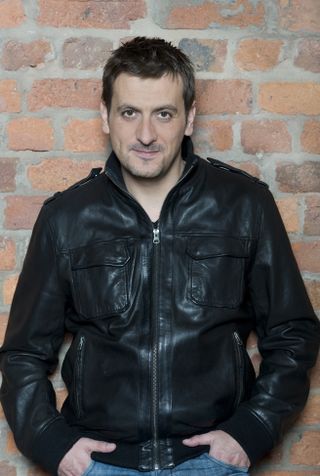 Chris Gascoyne tells TV Times magazine (opens in new tab) why he's fallen out with his Coronation Street character, and reveals why Peter Barlow's dalliances are destined to end in pain and heartache…
We'd never have thought that Peter Barlow would have some of Corrie's most beautiful women falling at his feet!
"It is bizarre! The thing is, whatever the scriptwriters write, you've got to make work. So I don't question it – I just get on with it. I do find it strange being labelled as a sex symbol, though – I'm getting on for 50, you know!"
The ink was barely dry on his marriage certificate to Carla Connor, and now he's embarked on an affair with Tina McIntyre!
"As an actor, no matter how bad your character is, you have to love them and understand them. What's interesting is that when Peter had the affair with Carla, he did it because he genuinely fell for her. But this time, I'm not liking him, because I know that it's not for real – he just wants to have some excitement and fun. I know he's not genuine and he knows he's not genuine."
What's the reaction been like from everyone to the storyline?
"I get lots of blokes going 'Wahey!' out of their car window. And my eldest boy, Freddie, is 18 and my other one, Pip, is 16, and, apparently, all the young lads think it's great."
Would you trade your real life with Peter's?
"God, I wouldn't like to be where he is. To be running round, chasing his tail like that? It's horrible!"
How have you found it acting out this storyline?
"It is knackering. You're going from one emotion to another, and your body and your mind don't really comprehend that it's not real sometimes. You can go home feeling depressed, but you have to shake it off. It's easier for me now than it used to be, but I'm always thinking about it – maybe if I did this, maybe if I tried that…"
Do you have any techniques to help lose that stress?
"I meditate for about 15 minutes or half an hour every day. As an actor, you're constantly thinking about a character and what's the most interesting way to play it. It can consume you and send you a little bit insane. If you find something like meditation, you just sit down and you come back to yourself – you don't let the fantasy intrude on the reality. It is a big part of my life and I'm glad I found it."
You revealed you'd be leaving Coronation Street later this year. Do you know yet whether Peter will be killed off or if the door will be left open?
"I'd like to keep the character alive and have some experiences, because you need energy and a different mindset to get you through. When I came back in 2008 [having done two, separate stints], in my mind, I had only come back for a couple of years, and I've done six – and it's a long old six years with not much of a break."
What would you like to do going forward?
"I'd like to do a play because I've not done one for a long time and it's a different thing, altogether – you can't stop and say 'Can we do it again?' And I'd like to go to a Buddhist retreat in France. That's something I'll do for myself. A couple of weeks there would be nice."
Get the latest updates, reviews and unmissable series to watch and more!
Thank you for signing up to Whattowatch. You will receive a verification email shortly.
There was a problem. Please refresh the page and try again.