Coronation Street's Sue Nicholls on Audrey's SHOCK Christmas heartache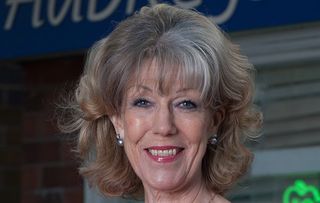 (Image credit: ITV/REX/Shutterstock)
It looks like Aud's played for a fool by lothario Lewis…
It may be the season of goodwill, but not so for Coronation Street's Lewis Archer, it seems. Shortly after discovering that partner Audrey Roberts is planning to share out her £80k inheritance from Archie Shuttleworth amongst the family, he starts acting very shiftily.
Audrey's daughter Gail investigates, and is stunned to find Lewis in a hotel with another woman. But the biggest shock is for Audrey, when Lewis later goes awol, and she then discovers that her windfall has been stolen from her bank account.
Star Sue Nicholls, who plays Audrey, gives her thoughts on the drama ahead…
It seems that Lewis is about to prove that a leopard can't changes its spots. Would you have liked things to be different?
"There's a bit of Audrey where the doubts have already started, but she really loves Lewis. She knows what has happened in the past, but you know when you have someone in your past and you go off and have a life, but you still think, however they've treated you, that they may still feel something for you?
"So when they get in touch, you long to say 'p*** off' but you think 'Oh no!' and there is that little spark. That's what's happened with Audrey and Lewis. So as much as people keep saying he's a bad'un, and especially Gail, you just hope that they're wrong."
Would you have liked this relationship to go on for longer? Audrey hasn't had much love in her life since her husband Alf died…
"When Audrey first arrived, she was a goer! She went with anybody who bought her a G&T. I wonder how I played that! But seriously, she was very happy with Alf because she was maturing in a nice way, and she got a bit grand being mayoress.
"Then you hit another stage of your life, maybe after 50 or 60. That happens in life – I don't think the same now as I did when I was in my 30s even, but you can still remember it. That's how Audrey is now.
"I think she would have liked things to go on longer. Lewis was actually out of her Mancunian league if you think about it, because he's very proper and very well-spoken. It's not like Alfie, who was totally the opposite, or any of the other blokes she's lingered with. So yes, it would have been nice."
Do you think this is the end of romance for Audrey, or will she find somebody else?
"How can I judge? You say at the time: 'I'm never going to do that again, ever, I look a fool, I feel a fool'. But then something happens out of the blue and you think: 'Gosh'!' So I don't know."
Do you think the Audrey/Lewis romance has sent out a positive message, in reminding viewers that it's not just young people who fall in love?
"Yes I do, actually. It's nice for the older characters in soap to have that, because the gorgeous youngsters are all so good, but it does happen and you hear about it all the time. And Nigel Havers (Lewis) is lovely to work with, and we laughed a lot."
How much of a struggle is it going to be for Audrey to recover from this heartache?
"I've had a lot of 'upset' scenes lately. I think she will recover, but I'll have to wait and see what the writing looks like. Sometimes in life, you have to be stronger than just saying 'I'm going to give up.'
"So many issues have happened to Audrey quite quickly. Things suddenly get on top of you and you hold it in. Then you get up one morning and get your coat and the coat hanger drops on the floor, and that's the one that makes you go 'Oh, for Christ's sake!' So often in the great scheme of things, when you break down it's because of all the issues, and something tiny has happened and that's when it all comes out."
What would you like for Audrey in 2019?
"I love being in the salon so I've got to keep going with that. And I like her being with the family. I'm happier now being the grandma. I think it's the age thing. You transcend up to that and you can be more family orientated and speak to the kids more. The only person Audrey never gets through to is Gail! Long may that be, really!"
Audrey is so loved by Corrie viewers. Do they come up to you and warn you about Lewis?
"Yes! I'm a regular in my local Sainsbury's. They tease me at work because I go in there more than I'm in Corrie, so I know all the lovely people that work on the tills. They're very sweet and they'll say 'My husband says don't get together with that Lewis!' I get really nice feedback."
Do you think Audrey will always believe that Lewis loved her, even if it turns out that he has stolen her inheritance money?
"I'm going to say definitely yes, I do. If you remember back to when he left before, he went off with Gail's money, and when Audrey went home to Grasmere Drive, there were some flowers with a message on, saying 'You were always the one.' You keep that in your heart, don't you? She probably kept the note, actually, if she was like me. So my answer is definitely 'yes'."
Picture credits: Main image: ITV/REX/Shutterstock
Get the What to Watch Newsletter
The latest updates, reviews and unmissable series to watch and more!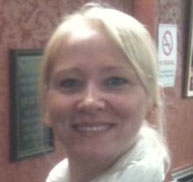 Alison Slade has over 20 years of experience as a TV journalist and has spent the vast majority of that time as Soap Editor of TV Times magazine.
She is passionate about the ability of soaps to change the world by presenting important, issue-based stories about real people in a relatable way.
There are few soap actors that she hasn't interviewed over the years, and her expertise in the genre means she has been called upon as a judge numerous times for The British Soap Awards and the BAFTA TV Awards.
When she is not writing about soaps, watching soaps, or interviewing people who are in soaps, she loves going to the theatre, taking a long walk or pottering about at home, obsessing over Farrow and Ball paint.