Corrie bad boy Sean Ward: 'I'm planning to go on an eco-retreat at a Buddhist centre in Ecuador'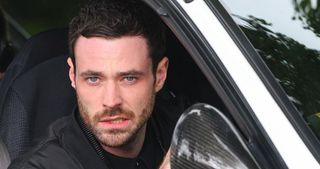 (Image credit: Eamonn and James Clarke/EMPICS E)
There seems to be no end to the evil Callum Logan will stoop to on Coronation Street. Next week, it's clear Bethany has an almighty crush on her mum's fella, so Callum, being Callum, exploits this fatal flaw, cajoling her into dealing drugs at the hellhole that is the Dog & Gun...
As an actor Sean Ward loves playing a baddie, but stresses that he is nothing like Callum in real-life. Always up for a challenge, TV Times put that to the test.
ON HOLIDAY
Callum: "He would go to Benidorm or Magaluf with the boys. It would be non-stop partying and causing trouble."
Sean: "When I next get some time off, I plan to go to an eco-retreat in Ecuador at a Buddhist centre where I will spent time not being recognised, meditating and thinking about how amazing this past year has been."
AND RELAX…
Callum: "He loves his cars and would go to track days with his Subaru."
Sean: "Searching for new music helps me relax. You can be transported anywhere with a good song. Music keeps me sane."
WORST NIGHTMARE
Callum: "Gail Platt coming on to him!"
Sean: "Getting caught falling out of a club drunk. I know that Coronation Street will always be bigger than me and I want to represent the show in a good light when I am out."
DEFINING MOMENT
Callum: "I think Callum has turned out the way he has because he didn't have a dad around when he was growing up. Perhaps his mother wasn't there for him either as he doesn't have much respect for women."
Sean: "My mum brought me up as a single parent, but she and my dad always remained friends and my mum was always around. They gave me the freedom to do what I wanted to do.
"My dad is my best mate, but when I was growing up, my granddad was my role model. He was a fireman and helped lead the Fire Brigade Union back in the day. I used to go to the picket line with him and would be on his shoulders with a placard. He is my idol and what a man he is."
TEN YEARS FROM NOW…
Callum: "He will either be in prison or working as a high profile drugs dealer."
Sean: "I don't want to leave Coronation Street at the moment, but if I do, I would like to play James Bond or a super hero in a Marvel comic movie. It is a long way from the skinny bad boy I play at the moment. I might have to beef up a bit, which will be hard as my body shape is genetic. All my family are built like this. I eat like a horse, but have a fast metabolism."
BEST QUALITY
Callum: "He genuinely loves his son Max."
Sean: "I'm a good listener. I am interested in people and love hearing their stories."
WORST QUALITY
Callum: "He is ruthless."
Sean: "I smoke and I am trying to quit, but I suppose that is a bad habit. Getting up in the morning is a nightmare for me. At the end of a day at Corrie, I am like 'Oh my days, get me to my bed!'"
POWER OR PINEAPPLE…
Callum: "With Callum, it's all about power and getting what he wants. There is nothing else. He never switches off and is always looking for an opportunity to make money."
Sean: "I can make great cocktails. I used to work in a rum bar. There is a science to cocktails. You can do a lot with rum – it goes well with coconut and a nice chargrilled pineapple."
Get the What to Watch Newsletter
The latest updates, reviews and unmissable series to watch and more!