Corrie star Daniel Brocklebank: 'I never thought I'd be doing a car chase around the streets of Manchester dressed as a vicar!'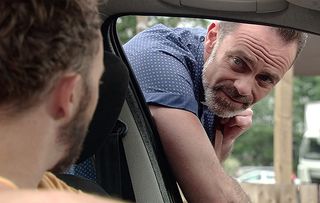 There are brutal consequences when Billy Mayhew can't resist poking his nose into other people's business, reveals Coronation Street star Daniel Brocklebank…
Billy Mayhew can't help but give advice, whether it's been asked for or not. This doesn't usually matter but the next thing Billy sticks his beak into has deathly serious repercussions…
What's the story?
It starts when a worried Shona Ramsey asks Billy to keep an eye on her fella, David Platt. "Billy sees David chasing someone in a cab so he screeches out in his car, follows him and eventually sees David parked up," actor Daniel Brocklebank tells Soaplife. "Billy then plonks himself in David's car, asks him what's going on and persuades David to go home and not cause trouble when it transpires David's been watching a guy who's been seeing Josh Tucker." Billy would have been best going home, too, as what he does next could lead to a loss of life…
What's happening in Coronation Street? See the latest soap storylines
Coronation Street star Daniel Brocklebank's interview with Soaplife about Billy Mayhew interfering once too often…
Soaplife: Why doesn't Billy just butt out when he's made sure David's OK?
Daniel Brockleband: "Partly because he's getting nosier and he just can't resist getting involved. Ultimately, though, he's trying to stop what happened to David happening to someone else. That's why he then speaks to this man he thinks Josh is grooming and he reveals Josh is a rapist. Billy's intentions are good, but he's doing exactly what he told David not to."
S: How does he feel when the police call and tell him Josh has been beaten to a pulp by the bloke Billy spoke to?
DB: "He feels terrible because he knows he inadvertently caused it. While Billy may have stopped someone going through the trauma of what David went through, he's now managed to get Josh beaten up so badly that Josh is near death."
S: How does David react when Billy comes clean?
DB: "David's annoyed because Billy has done the exact thing he'd told David not to do. David calls him a hypocrite, which he is. However, Gail Platt is very much, 'Good on you, Billy!' because he's stopped Josh from hurting somebody else."
S: How will this affect Billy's conscience?
DB: "Billy feels guilt towards Josh and his injuries, but this could well be an opportunity for him to help Josh. If he survives, he could rehabilitate him and he could find out why he rapes in the first place."
S: Could David and Billy's friendship blossom?
DB: "Potentially a Billy-David friendship is interesting because they're very different people - rather like Jack P Shepherd and myself, although we get on very well and go for pints together after work all the time. There's a lot of potential for drama but also for huge amounts of comedy."
S: How was the car chase to film?
DB: "Never in my 25 years of doing this for a living did I think I would be doing a car chase around the streets of Manchester dressed as a vicar! It was very exciting and we got to do all of our own driving which was really cool."
Coronation Street continues Mondays, Wednesdays and Fridays at 7:30pm on ITV
Get the What to Watch Newsletter
The latest updates, reviews and unmissable series to watch and more!