Corrie newcomer Ted Robbins recalls the night he died on stage for real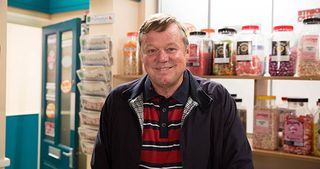 TV Times (opens in new tab) is in serious need of a box of tissues when we call up Ted Robbins (opens in new tab) to discuss his new role in Coronation Street (opens in new tab). It's a fresh, autumnal day and, as he talks about his rollercoaster of a year, his voice cracks and he starts to well up.
Ten months ago, you almost died on stage from a heart attack and now you're healthy and starring in your favourite show. So how do you feel?
"Dave Allen, the comedian, used to say to his audience 'May your God go with you.' That's my kind of faith and I do thank God… I'm getting a bit emotional, sorry.
"All I can say is I am looking out at the sunshine now, and I see things so much clearer."
What happened would surely have cost you your life had it not been for a stroke of good fortune and here you are now, having celebrated your 60th birthday in August...
"Yes and for some reason, I was still here. If what happened to me had happened when I was walking up a hill somewhere, I'd be a goner, and we wouldn't have been celebrating my birthday, there'd have been a different kind of gathering in a church. It would've been 'I remember Ted' and that would be the end of that."
Can you tell us about that dreadful day on 31 January this year?
"I was performing in the stage version of Phoenix Nights – in which I play Peter Kay's rival, Den Perry - when I collapsed with a heart attack. Luckily, a paramedic in the audience jumped out and gave me CPR and saved my life, and he was assisted by a consultant cardiac surgeon who was also in the crowd.
"Then I was taken to Wythenshawe Hospital in Manchester, where there is a marvellous cardiac unit, so that was the next stroke of luck."
"I had suffered ventricular fibrillation, a condition in which the muscles of the heart's ventricles flutter instead of contracting properly. It's what the footballer, Fabrice Muamba, had. I like saying that because it makes me sound like an athlete!"
Had you had any issues with your heart before this incident?
"I'd had a problem with a heart valve which the doctors knew about, and I was going to get it fixed after the tour. But then I got a chest infection and my heart went. I've lost count of the number of times people have said 'Well, Ted, it's not the first time you've died on stage.'"
Fast forward 10 months and now you're having a ball having landed your dream job on Coronation Street...
"It's an absolute joy. I play Brendan Finch, the dodgily-dressed editor of The Inexplicable magazine, who leaves Mary Taylor smitten when he calls in at The Kabin this week.
"It's the most enjoyable job I've ever had. I remember Sir John Betjeman, the former poet laureate, loved Coronation Street, and he said once that sometimes the Street is at its very best when nothing happens. It's the minutiae of everyday life that people get drawn into. That's how I feel about it."
Showbiz runs in your family, doesn't it?
"Yes, my sister Amy is an actress who 's best known for playing Jill Weatherhill in ITV's The Royal. Sister Kate is a comedian, actress and singer and my other siblings Jane and Emma, are also singers.
"My dad, Mike, was in the RAF, and after the war, he joined Butlin's. He was a redcoat, and then he became entertainments manager. So we grew up in the variety halls of the holiday camps in places like Pwhelli, Minehead, and Bognor."
Over the years, you've presented numerous programmes for Granada, and been the warm up man for shows including Stars in Their Eyes, so what was it like coming back into this building?
"I was greeted like an old friend as the employees of Granada Television are like family. This Media City complex was built just for Coronation Street, but in the old building, we'd all share the same make-up room. So when I came here, it took me about half an hour to walk down the corridor because everyone was like 'Ted, how you doing?'"
You must have been unrecognisable to some of them as you've lost a whopping four stones since your heart scare...
"Some people had to have a double-take. I lost a couple of stone in hospital on the morphine diet. I was in a great deal of pain from my ribs – they had to break 12 of them to get to my chest.
"When I saw that I'd lost so much weight, I thought I'd keep it going. I go to the gym every other day, and go for walks in Rossendale in Lancashire, where I live. And I eat well. My wife Judy does most of the cooking now.I can get into a pair of trousers where the waistband's 30, not 40, I can buy clothes off the peg, I can do my top shirt button up, and I can come off stage after a gig and not be bathed in sweat.
"I'm healthy, touch wood, and I've got a thing in my chest so that if it ever stops again, it'll keep me going, so it's just wonderful. And on top of that, to suddenly get a part in Corrie!"
Have you seen Peter Kay since that day on stage?
"It was my birthday on my first day's filming, and I crossed a lovely bridge near the studios, and do you know that feeling, when it's like you're six feet off the ground? Well, I did feel like I was walking on sunshine. After I'd finished filming, I met my family in this little Italian restaurant, and we were just into our starters when I heard this voice behind me and got this big bear hug.
"I turned round and it was Peter Kay! So it was hugely emotional. I've been in the business a long time and done a lot of jobs, and this has been an absolute treat!"
Get the latest updates, reviews and unmissable series to watch and more!
Thank you for signing up to Whattowatch. You will receive a verification email shortly.
There was a problem. Please refresh the page and try again.