Corrie's Jane Danson: 'When Leanne goes to hit Simon, she realises she can't cope with him'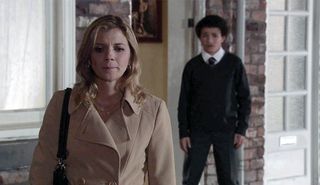 Coronation Street (opens in new tab)'s Leanne Tilsley is upset to discover son Simon is as nasty as ever when he returns to Weatherfield, Jane Danson (opens in new tab) explains to Soaplife. And she takes drastic action…
Was Leanne looking forward to Simon coming home?
"When Simon [Alex Bain (opens in new tab)] was away, it was a relief not to have to worry about what kind of mood he was in or put up with his abuse. She was hoping he might be 'mended' by spending time away, but she was being overly optimistic. He may not be physically harming Leanne for now, but he's mentally abusive and is misbehaving."
How does she react when she finds out he's been bunking off school?
"She's furious and starts telling him off, but he's abusive and very rude back. Then later Simon graffitis the Bistro."
What does he write?
"That she was a prostitute! Leanne's massively humiliated and she knows she has to sort this out once and for all. She confronts him and he really has a go at her. He says things he knows will really hurt her, like how glad he is she's never had any more children because no child should be subjected to the misery of having her as a mum."
What does Leanne do?
"He goes to take a swing at her and, for a moment, it's like she's going to hit him back and then Simon becomes scared. It's at this point Leanne realises she just can't cope with him."
What happens next?
"She arranges for Simon to stop with his grandfather, Ken [William Roache (opens in new tab)], for a while. Ken is a good role model, the voice of reason and might be able to resolve things."
But Simon's not happy, is he?
"Simon wants to be in his own home. Also, living with Leanne, who works a lot, means he has a certain amount of freedom. Leanne manages to walk away, though."
Does she come to regret leaving him with Ken?
"Not immediately – she knows it's the only thing she can do. After leaving Simon, she goes home and waits for him to text her goodnight, which he always usually does. When he doesn't, she starts thinking maybe she's made a mistake, but really she had no choice."
Coronation Street (opens in new tab), ITV.
Get the latest updates, reviews and unmissable series to watch and more!
Thank you for signing up to Whattowatch. You will receive a verification email shortly.
There was a problem. Please refresh the page and try again.