Corrie's Kym Marsh: 'It's a real Ross-and-Rachel Friends-style storyline'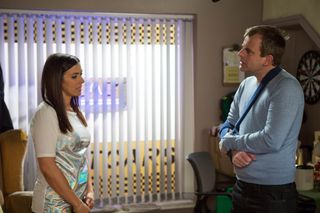 (Image credit: Joseph Scanlon)
Michelle's leaving Coronation Street unless Steve has a change of heart. Could he? Kym Marsh (opens in new tab) tells Soaplife…
Why does Michelle give up on Steve?
"Steve's frozen her out completely. So she's got to the point where she really doesn't feel there's anything more she can do to get him to come round and forgive her for kissing Will [Leon Ockenden (opens in new tab)]."
You can't blame Steve for being mad at Michelle, can you?
"She's the first person to admit she did wrong, but she was left alone for months while Steve [Simon Gregson (opens in new tab)] was in Spain and she didn't think he was even going to come back for her birthday. I'm not condoning what she did, but Steve needs to cut her some slack, especially as he hasn't exactly been an angel in the past."
Does she have any idea Steve's secretly pining for her?
"No, he's far too good at being angry with her. Michelle genuinely believes this is the end and he's never going to forgive her. The viewers will want to bang their heads together. It's one of those times when you're shouting at the screen. It's a real Ross-and-Rachel Friends-style storyline!"
So they're both being stubborn?
"Yes. They're as stubborn as each other. If they could just admit they've both made mistakes and forgive each other and move on, then it would all be OK. But neither of them is going to back down."
So where is Michelle going?
"She plans to join a cruise ship as a singer. She feels there's nothing left for her in Weatherfield. Carla [Alison King (opens in new tab)] has gone, her son is abroad and now it looks like her marriage is over, so it seems like the right thing to do when she hears about the gig. She still loves singing and it's like a fresh start. She can't bear the thought of staying in Weatherfield and seeing Steve every day."
Shouldn't she stay and fight for her marriage?
"If Steve isn't going to forgive her, I can totally understand her desire to get away. She's probably also doing it to try and call his bluff, but that's a dangerous game… as it looks very much as though he's going to let her go. If Carla hadn't left, I doubt Michelle would be considering leaving."
Coronation Street (opens in new tab), ITV
Thank you for signing up to Whattowatch. You will receive a verification email shortly.
There was a problem. Please refresh the page and try again.