Corrie's Leon Ockenden: 'Leaving Saskia for Michelle has definitely entered Will's mind'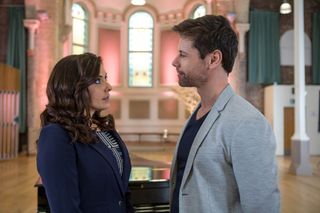 (Image credit: Joseph Scanlon)
Michelle's supposed to be organising Will's wedding in Coronation Street… But they're finding it hard to ignore their feelings for each other, Leon Ockenden tells Soaplife.
How does Will feel about Michelle? "Will invites Michelle [Kym Marsh] round for dinner – his teenage feelings for Michelle have come flooding back and quickly become quite deep. When it looks like Steve's abandoned her, he's only too happy to be there for her. She's the first person he was ever in love with and you never forget that person, they always have a spot in your heart. There's this element of fate, which throws them back together into each other's lives.
"Spending time with Michelle planning the wedding while Saskia is away, he definitely feels something and he hopes that she feels the same."
Why does Michelle open up to Will? "They have that bond from their childhood and she can really talk to Will about the situation with Steve in a way that she can't with Liz or anyone else. He understands that Michelle has gone through a lot and feels abandoned."
But Will's supposed to be getting married to Saskia! "I think Saskia is more of a mother figure for him and he's getting married because that's what you do at a certain age."
Would he leave Saskia for Michelle? "He's wrestling with the strength of his emotions, definitely. Saskia's away a lot on business and it's definitely entered his mind."
You're a trained chef, Leon, so if you were going to cook a seductive meal for Michelle, what would it be? "I reckon something with mussels and prawns, so that you're having to use your fingers and it's all getting a bit sexy. Then we'd definitely end with something chocolatey!"
Coronation Street, ITV.
Get the What to Watch Newsletter
The latest updates, reviews and unmissable series to watch and more!