Corrie's new hunk Leon Ockenden reveals he's more haute cuisine than hotpot!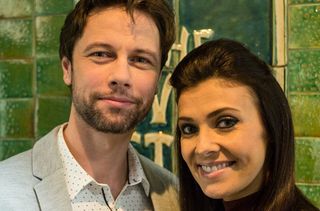 (Image credit: Joseph Scanlon)
New Corrie resident Leon Ockenden tells TV Times about his gastronomic past and why it was fourth time lucky when he was cast as Michelle Connor's first love, Will...
Congratulations on landing the part of Will, it's been a long time coming, hasn't it?
"I screen-tested for the role of Robert Preston, and before that, I tried out for Nick Tilsley. And a long time ago, I went up for the role of Trevor the binman. They've probably given me this part out of sympathy!"
And before turning to acting you were a chef at The Hilton and worked for the Roux brothers in Amsterdam. How did all that come about?
"I wasn't very academic at school and I started working in a bakery on Saturdays when I was 14, to earn some money. The teachers suggested I did an apprenticeship, so that's what I did. At the end of that, I got the opportunity to work in Germany for six months and Sweden for six months from the National Association of Master Bakers, and then I was offered a job at The Hilton on Park Lane."
Impressive stuff, was there ever a chance you could have gone on to become a culinary superstar?
"I was a hard worker, but I was a bit of a cowboy sometimes. I learnt how to turn the ice cream machine up in temperature as well as down, and I remember once, I was trying to make 90 litres of vanilla sauce in it. But because I was also making chocolate ganache and wild strawberry mousses, I forgot about it and made 90 litres of sweet scrambled eggs, instead!
"Luckily, one of the washer-uppers was my mate and we managed to get rid of it all without the bosses seeing.
Inspired by Leonardo Di Caprio, you studied at the revered London Academy of Dramatic Arts – where Benedict Cumberbatch, Anna Maxwell Martin and Chiwetel Ejiofor also trained – quite an achievement for a Cornish chef…
"I worked with a guy in a pub who was studying classics at Oxford University and he taught me about Shakespeare and recommended a speech for me to do at my audition."
You're best known for playing PE teacher Hector Reid in Waterloo Road and aviation pioneer, Prince Serge De Bolotoff in Mr Selfridge, but presumably being in Corrie has taken things to a different level…
"I'm not on Facebook, but my wife [Vanessa Hehir (opens in new tab), who played science teacher Sue Lowsley in Waterloo Road] is. When Corrie announced I was joining the cast we had more messages about that than we did about the birth of our daughter, Lyla!"
Working on a soap is hard, but how does it compare to being a professional chef?
"Working in kitchens is difficult. Acting has its own set of challenges – the hard thing is never knowing where the next job is coming from. But it's a lot of fun, and I never lose touch of what a privilege it is to be an actor and to work as an actor. I'm loving it!"
Thank you for signing up to Whattowatch. You will receive a verification email shortly.
There was a problem. Please refresh the page and try again.