'David and Shona are an electrical storm of emotion!' says Corrie's Julia Goulding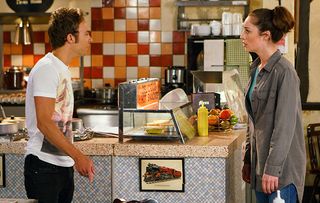 (Image credit: Mark Bruce)
Shona Ramsey and David Platt have a real love-hate relationship going on. Corrie's Julia Goulding wonders if it will ever be just love…
Unexpectedly winning £6,000 on a scratch card triggers off a series of unexpected events for Shona Ramsey in Coronation Street.
"First up, Macca gets to hear about her windfall so he pitches up and tells her she could use the money to help get her son Clayton out of jail," Julia Goulding told Soaplife. "She looks into this, but when David gets to hear about it, he's furious."
But that's not the only feeling he has towards Shona…
First, what happens with Shona and Clayton? "Macca tells her Clayton's deeply depressed and if anything happened to him as a result of this, she'd never be able to forgive herself. So she asks Todd for legal advice. He tells her legal loopholes do mean that there is a small possibility she could get him out of prison, but it is very unlikely. So she decides to go and see Clayton herself and see what kind of state he's in."
What happens when she visits Clayton in prison? "She's very gentle and tries to be supportive because if he is in a state then she doesn't want to go in there all guns blazing. At first, he really does play on her emotions and manages to pull the wool over her eyes until the very end of their conversation."
How is the showdown with David sparked? "David [Jack P Shepherd] finds out what's going on and storms round to the cafe, where Shona works. But Shona has already decided she's not going to try and get Clayton freed. David's so angry, though, he doesn't hear her. She is more than a match for him as they argue, but there is also a massive amount of sexual chemistry between. It is like an electrical storm of emotion."
Can they make things work? "They clearly get on and had a friendship which was starting to turn into something more before David found out who she is. There are definitely feelings there, but they need to figure out whether or not the feelings are strong enough to warrant the complications of them getting together."
Coronation Street, ITV
Get the latest updates, reviews and unmissable series to watch and more!
Thank you for signing up to Whattowatch. You will receive a verification email shortly.
There was a problem. Please refresh the page and try again.